Football season is finally in full swing, and so is the season of fall! I personally love this time of year not only because of New York Jets Football but because of the beautiful weather and all the possible fun activities that you can do!
There are so many wonderful things to look forward to and I find that these next few months always fly by. Probably because there are so many great holidays approaching — Halloween, Thanksgiving and eventually my favorite ... Christmas!
With Halloween around the corner, a fun fall festivity that you can do with family and friends would be to go on a haunted hay ride! Around this time last year, fellow Flight Crew member Jessica S. and I visited a haunted farm and walked through a haunted house and cornfield! It definitely was a great way to get in the Halloween spirit, but I can admit we were clinging to each other the whole time!
If you want to opt for a more mellow fall activity, another few of my favorites are pumpkin and apple picking. I know Flight Crew Cheerleader Linda shared her fun experiences and delicious recipe to do with apple picking, but I can also highly recommend it as a fun family activity. I also love going pumpkin picking with my family every year. It's always my mission to find the perfect pumpkin and go home and create the best jack-o'-lantern! Both of these festivities are great ways to enjoy the fall season!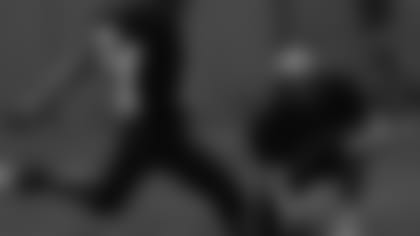 And how could I forget the best fall festivity of all ... FOOTBALL GAMES! It's football season and I love every minute of it. Not only do I love watching and supporting our New York Jets, but I also love supporting my younger brother Scott. He is a sophomore in high school and on the varsity football team. Every Friday night they have a football game and I love supporting him and cheering him on. As starting kicker, he won the game last week for his team by making a 45-yard field goal!!! The crowd, including myself, was going nuts! He works so hard at being the best he can be and it goes to show that hard work pays off!
Aside from going to see the local high school football game, I love watching our New York Jets of course! Here's to looking forward to another great season. I'm so excited to be able to cheer on our team on the field at every home game. This is going to be our year! There's nothing like watching a good old football game and our New York Jets during this time of year.
All of these fun fall festivities are what make this time of year fly by! I hope you all enjoy them just as much as I do! I'll see you all on the sidelines at the next home game.