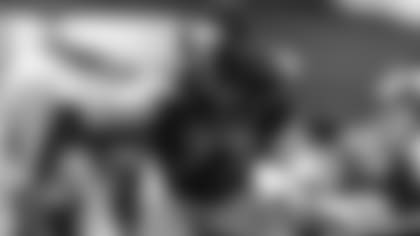 Mekhi Becton has not been an NFL player for one season, but the Jets' imposing and massive offensive tackle is already an online social media video favorite.
"The Big Ticket" is one of his many monikers, which comes from the diamond-filled, ticket-shaped pendant that includes the directive to "Admit One." Becton shows up in more than 30,000 results in a search of YouTube videos.
"I find it funny," Becton told the Inside the Jets podcast, with Bart Scott and Dan Graca. "I just got to keep doing it so it keeps showing up."
In a difficult, challenging and winless season, Jets fans have latched on to the talented rookie, hitching their wagon to Becton and taking a ride on "Highway 77" (another nickname, as are "The Great Wall of Green" and "Mount Becton") as he pancake-blocks some of the more talented defensive players in the NFL.
"I know I'm always up the challenge," Becton said. "I want to be the best. I want us to be the best unit, top 5 in everything -- pass, run, everything. That's going to be my standard always."
Becton (6-7, 363) sent an early calling card in the season opener at Buffalo when he played well against Jerry Hughes.
Asked about his success out of the gate, Becton said: "It feels great. I did my job. It's on to the next play. I try to do that every play. It feels real good to have a man on the ground every play. That's my mindset."
That mindset heading to the Week 13 game against the visiting Las Vegas Raiders on Sunday has catapulted Becton (65,930 votes through Wednesday) to the top of the list among offensive tackles in voting for a spot on the AFC squad for the 2021 Pro Bowl. (Balloting, at NFL.com/ProBowlVote online and via mobile phones ends on Dec. 17; fans are also able to vote via Twitter using the hashtag #ProBowlVote.)
While wreaking havoc in the run game, Becton -- as the left or blindside tackle -- has been solid in his protection of QBs Sam Darnold and Joe Flacco. He has not been flagged once for offensive holding and Becton has been called for only two penalties all season -- both false starts.
"I feel like it's all about technique," Becton said. "If you don't have technique you can't block anybody, and that's the most important thing. I've learned more patience now because I know I have the length that a lot of people don't have. If I can shoot my feet fast and get my hands on them before they get on me I know they can't get past me. That's what I've planned on doing, what I mostly do. It's my main focus."
From the early going, Head Coach Adam Gase knew he and the Jets had something special in the team's first-round draft pick, No. 11 overall.
"I really think a lot of it has to do with his preparation coming into the season, not only physically, but he must have studied a lot," Gase said. "Since he's been here, since we started that first time we went out there in a Phase 2 walkthrough, he's been all over it. He was executing things that I was really surprised about because sometimes it takes, 'OK, oh, that's what I should do, I should slide with this guy,' or, 'I need to work with this dude.' I mean, he got it pretty quick."
Through the season, Becton has garnered some of the highest ratings among NFL rookies, and among offensive lineman overall. But he's still a rookie.
"Some things are easy, some things are like I expected," he said. "But sometimes I catch myself and say 'Wow, I didn't know I could do this.' Then, 'it's OK you got me there.' "
That said, there have not been many "gotcha moments" when it comes to The Big Ticket. Though he's missed two games because of a shoulder and then a chest issue, Becton is aware that comes with the territory.
"I mean I'm still banged up, I'm a little banged up but that comes with it," he said. "I'm just playing through it at this point."