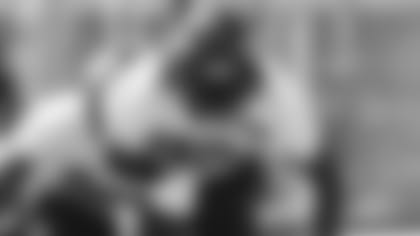 The Williams family keeps on growing.
Leonard Williams, the Jets' top draft pick in 2015, got it started. This year he was first joined by defensive coordinator Gregg Williams. And after the first practice of the team's voluntary minicamp last week, Leo wasn't lyin' when he said he liked what he experienced that day.
"I love guys like that," Leonard said of Gregg's trademark high energy coaching and aggressive playcalling. "That was a big reason I went to USC back in the day, for Coach [Ed] Orgeron. I love those high-intensity, get-after-it type of coaches that really know how to push you and get the best out of you. That's what I see in Gregg Williams. I'm looking forward to playing for him."
As for the newest member of the fam, Quinnen Williams wasn't yet a Jet when Leonard spoke those words about Gregg. But it's a small NFL world and as luck would have it, Leonard, who grew up in Dayton Beach, FL, before heading to Southern Cal, and Quinnen, Alabama born and bred, got to know each other during predraft workouts in Thousand Oaks, CA.
"My impression of him is he's a stud," Leo said of Q. "But at the same time, he's a kid, and in a good way. He doesn't feel like he knows everything. He's still light-hearted. When I saw him in California, he was just training really hard, asking me questions, trying to be a sponge and learn as much as possible.
"I know the draft is coming up soon. With the third pick I feel we're going to get somebody good no matter who it's going to be. ... I do like Quinnen Williams, with that being said, though."
Then lo and behold, the Jets were on the clock at No. 3 last Thursday and plucked Quinnen, the precocious defensive lineman from 'Bama. Suddenly they weren't just workout buddies but brothers.
The Jets rookie hasn't yet joined practices but that will come soon enough, during OTAs and at the mandatory June minicamp. And then we'll really start to see what damage Team Williams can wreck. Until then, Leonard reminded that there's a lot new and not just this concept of the Williams family. There's the playbook, for instance...
"Gregg just keeps saying we have a lot of talent on this defense and we're going to be able to do a lot. With that being said, we've just been scratching the surface with the playbook," Williams said. "It's a whole new playbook so they're not trying to load a bunch on us at one time. They want us to be able to move fast so they're giving it to us in small increments. ... He keeps saying we have a lot of talent, we're going to be able to move around and do a bunch of stuff, so I feel like he's going to put players in the best position.
"It feels like a new culture right now," the now fifth-year D-lineman continued. "In practice, guys are flying around, moving fast, speaking loud, communicating with each other, picking each other up, coaching each other. It seems like everyone wants the best for each other. I love that, and I'm not saying we never had that in the past. And I also said this is the first day, so we have to be able to sustain that if we want that to continue."
See the Best Photos of the Jets During Phase Two of the Offseason Program