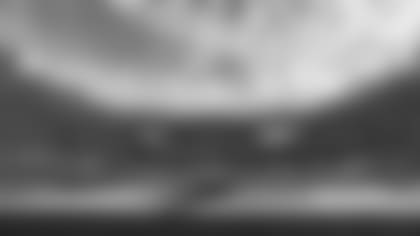 For the first time in 16 years, the Jets have a new pre- and postgame radio host.
Dan Graca, a Hillside, NJ native, has been a Jets fan since birth as his family had season tickets for 23 years. He spent most Sundays of his childhood at Meadowlands Stadium in section 302, row 26 cheering on the Green & White.
"It's funny to think I was the guy back sitting in the parking lot all those years, listening to the pregame shows," he said. "To think all these years later that I'm going to be the guy doing the pregame shows and there are going to be people listening to me, it's kind of a weird, eerie thought, but cool nonetheless."
Graca's favorite Jets player of all time is wide receiver Al Toon, who he described as "the guy." Another testament of Graca's loyalty comes in the form of abnormality as he stayed for the entirety of the Monday Night Miracle. However, his favorite Jets memory came two years prior in 1998 when he attended his first playoff game with a berth to the AFC Championship on the line.
"The thing I remember about that Jacksonville game vividly is that we'd always come up to the stadium roughly 30 minutes before the game," he said. "We'd come up the escalators at the old Giants Stadium to the upper deck and normally by like 12:30 the place was still relatively empty for a 1:00 game. But that day, I'll never forget we got off the escalator and the first peek you had into one of the sections, all you saw was that the place was mobbed. They were waving the white towels they gave out."
Graca, a Rutgers alumnus, said there are no words to describe his excitement at his new opportunity. Throughout his career, he's worked with SNY, ESPN Radio and Sirius XM Radio and hosts the pre- and postgame shows for the Knicks and Rangers. Last year, he filled in for Don La Greca on occasion and came to the realization of how much he'd relish the idea of being the Jets' full-time radio host.
"When I got the word that the Jets were going to go ahead and have me climb aboard, I think I was speechless on the other end of the phone," he said. "I know it's my job to talk with the career that I have, but I didn't have any words. I think I was just saying 'wow' kind of like in disbelief.
"It's amazing and I'm excited coming aboard at this time, too, with Sam Darnold being the new face of the franchise and hopefully him having a great career and all the other young players that they have. They're headed in the right direction and to be part of that I think is going to be pretty cool."