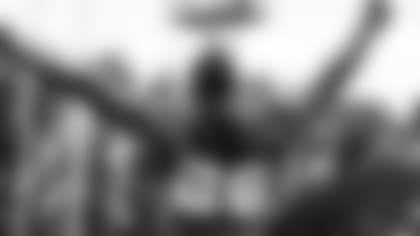 Even though Jets safety Marcus Maye hasn't been able to practice in the spring because of an ankle injury, he's still progressing as he enters his sophomore season.
"Marcus's mental growth has been outstanding as well," DBs coach Dennard Wilson said during last week's minicamp. "He's starting to really figure out the game. He's understanding the little things, the nuances of the game, which will allow him to play faster and make more plays."
Maye tallied 76 tackles and one forced fumble and tied for for the team high with two interceptions in 16 games last season. While he hasn't stepped between the lines this year, the Florida product has been rehabbing his ankle throughout OTAs and minicamp.
"That's the hardest part," he said. "Just watching, standing on the sideline and seeing everything. I'm just giving it time and I'll be back soon."
In team periods, Maye has been extremely vocal as he stands next to Wilson and they dissect what's transpiring on the field. Wilson believes Maye's patience will pay off once he's healthy.
"When you're out there and you're not practicing, if you can sit back and start to see the game, it slows down for you," Wilson said. "That's what he's doing right now. We do a lot of talking in between plays. I ask him what he's seeing and he's communicating. We're talking through the game to be ahead of plays, to be ahead of what the offense is trying to do. He's getting better at situational football as well."
Wilson added the more you know, the better you're going to play and if you "look right, you do right," referring to pre-snap reads. When Maye returns to the field, head coach Todd Bowles expects a calmer, sharper player in the back end of the secondary.
"Obviously from a mental standpoint, from him watching film and seeing the game from a different vantage point, you want him to get better in that second year mentally, seeing some things," Bowles said. "Some things he might've missed the first year as a rookie. He's been doing a lot of studying and doing it from a sideline approach."
Maye said his injury, which he suffered in the season finale, hasn't hindered his offseason plans. He's been working out while protecting the ankle and believes he "should be" ready for the start of training camp, but will leave the final say to the trainers. Regardless of when Maye returns to the field, he's excited to be a part of a defense that he believes can be "a lot better" than 2017.
"We have a lot of new pieces," Maye said. "This whole offseason we're trying to put everything together, getting used to everybody. It's been going well."