It's been more than 40 years since Marty Lyons started taking classes at Alabama. But on Saturday, Lyons will fulfill a promise to legendary 'Bama head coach Paul "Bear" Bryant when he receives his degree.
"He'd be spitting out leaves of tobacco from his Chesterfield and he'd be looking over his glasses and he'd say what took you so long," Lyons said this week before departing for Tuscaloosa, AL. "And then he'd say thank you."
Bryant died of a heart attack in 1983, but not before he left a lasting imprint on Lyons. Lyons was a member of the Crimson Tide from 1975-78, earning All-American honors while helping lead Bryant's team to a national championship his final season.  Lyons left school and played in the East-West Shrine Game along with the Senior Bowl.  With no combine at the time, teams including the Buccaneers, the Bills and the Jets made arrangements for Lyons to fly in for physicals.  With the NFL in sight, the education major made a decision to put school on hold.
"I realized something was on the back burner and it was my classes. So I finally decided I was going to drop out of school and the first person I had to tell was Coach Bryant," Lyons said. "So I got up the nerve and I walked in there and said, 'Coach, this is where I am. I'm going to drop out of school and I'll pursue an opportunity to play in the NFL.' And he stuck his hand out and said, 'Well Marty, just promise me one day you'll come back and you'll get your degree.'"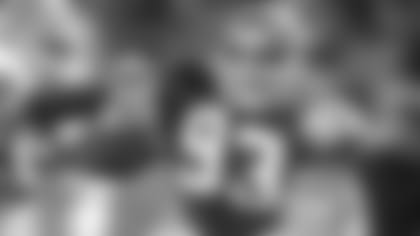 One day became many years and many years would become a few decades. A first-round pick (no. 14 overall) of the Jets in the 1979 NFL Draft, Lyons played 11 seasons while racking up 43 sacks for the Green & White as he was a critical cog in the New York Sack Exchange. He established the Marty Lyons Foundation, a not-for-profit organization providing more than 6.000 "special wishes" for children with life-threatening or terminal illnesses. Lyons, who serves as the team's color commentator on its radio broadcasts, also became a successful businessman and is vice president of marketing and public relations for the LandTek Group.
But something went unfinished.
"I was 24 credits short, which was equivalent to a whole year," he said of the Alabama degree.
There was one attempt that never got off the ground. But Dr. Ken Wright, the director of the school's sports management program, flew to New York and talked to Lyons for hours. They both determined that Lyons had to finish what he had started, so a target date of December 2016 was set because the former Jet didn't want to steal  the thunder from his daughter, Meghan, who graduated from Alabama last year, and his son, Luke, who will graduate from 'Bama in May.
In his four collegiate seasons, Lyons was part of a team that captured three SEC titles and the ultimate prize in the national championship. In order to obtain his degree some 37 years later, he needed a new team comprising five professors while Greg Wagner, director of alumni and organizational relationship development at Alabama, became his tutor.
"You're excited you're to the finish line. The last 2½ years  have been very interesting, trying to get all these courses and all the credits," said Lyons, who annually would complete three credits during the football season and six credits in the summer while doing reports from afar in addition to taking online classes. "I'm just very thankful that the team that the University of Alabama put together was very understanding with all my commitments up here in New York that they worked around my schedule. We chipped away at it and we were finally able to game-plan to do this and finish it by December 2016 and now we're two days away."
Bryant always told his players to be proud of their families, be proud of their religions and get an education. Fourth on his list was winning football games and he won 323 of them, took 29 teams to bowl games and led 15 to conference championships. The "Bear"  won't be there to celebrate another triumph this weekend in Tuscaloosa, but you have to think that Bryant probably will take off that famous houndstooth hat somewhere and salute one of his former players. A month shy of his 60th birthday, Marty Lyons will attain one of his greatest feats.
"You took the words of a promise and you made them become a reality," he said. "You said you were going do something and you did it. Now the hill was pretty steep, it took me 37 years to do it. And I could not have done without all the support and love around me."