The Jets travel to Miami for their next in a seemingly endless string of two-game road trips. And if you think the game could have a little more meaning for a player such as Brandon Marshall, who was traded from the Dolphins to the Bears some 4½ years ago, you'd be right.
"I still live down there, I'm there every offseason, my company's still there, we still train guys there, so I'm always there," the Jets wideout told reporters after today's practice at the Atlantic Health Jets Training Center. "It's not going to be an emotional game, but I will say that I'm really excited to play Miami for the first time since I was traded."
Remembering, of course, that Marshall didn't play at Hard Rock Stadium as a Bear and last year the Jets game "at" Miami was really at Wembley Stadium, the excitement of a return to his home stadium of two years is understandable. But not emotional? How so, Brandon?
"I have the same emotion every game," he explained. "When I was younger, I didn't understand that. But it's not about emotion, especially not on the offensive side. It's about being efficient. And you have to control your emotions or your emotions will control you and you'll be out of your game."
A prime example of that, Marshall said without being asked, was his celebrated heated battle with CB Darrelle Revis during an early August training camp practice.
"We had a very competitive day and I got way out of control, I was too emotional, and he won the next four reps," Marshall said. "That's why you can never get emotional."
OK, but no emotion doesn't mean no memory. Marshall recalled some highs and lows of his time with the Dolphins and said he still felt his two-season production of 167 catches, 2,228 yards and nine TDs were underappreciated.
"I don't have to prove anything to anyone," he said, "but that's part of sports. It's competitive. A lot of players play with chips on their shoulders. And for me, I learned a lot there, I really did. I'm disappointed how things ended there as far as on the football field. I just didn't understand how they were all over the radio asking for me to come down there — begging for me to come down there — and then once I got down there, they killed me."
Another reason for his excitement about Sunday's game is a return engagement with CB Byron Maxwell.
"I played against him last year when he was with Philly and he just held every single play. That was tough," Marshall said, adding that a "source" told him the Dolphins "traded for him to stop me, so I'm excited for this matchup."
Last year against the Eagles, Marshall had 10 catches for 109 yards and a TD and Maxwell was called twice for holds, one of which was declined. For the year, Maxwell was flagged 11 times for penalties and this year as a 'Fin he's got four penalties.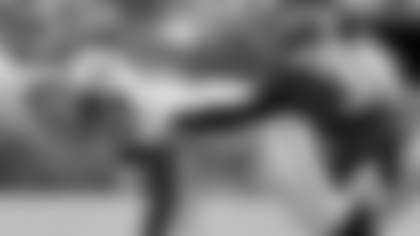 Marshall, meanwhile, has been in a "slump" compared to last year's monster production, with 34 catches for 540 yards and two TDs. But he's also on a tear in getting flags thrown against players guarding him — with a hold against Cleveland's Joe Haden on Sunday, he's drawn penalties in seven consecutive games, with nine opponent penalties in all during that run.
Finally, though, Brandon said the matchup of the units, the Jets' offense against the Dolphins defense, provides the kind of excitement that could decide this game between longtime division rivals.
"Their secondary, the way they play together," he said of what impresses him about Miami. "They're No. 10 against the pass, they don't give up big plays. So if we want to be productive and keep this on the right track, we have to be efficient and play together as well."