Mike Maccagnan, who's developed a reputation as a reasoned, unflappable "steward of the organization" in his two seasons as the Jets' general manager, offered a sound bite of fan vexation in the middle of his 40-minute end-of-season news conference with beat reporters today.
"Yes, the losses hurt a lot," Maccagnan admitted of the team's just-concluded 5-11 season. "They don't feel good. And you do get frustrated."
But other than that, the GM was on message, looking ahead to how things can get back on track toward his, head coach Todd Bowles' and owner Woody Johnson's blueprint for the Green & White.
"It is a long season and the losing does hurt," he said, "but you can't look backward, you always have to keep looking forward, trying to figure out what you can do to help the organization and the team. And we have a plan in place."
Maccagnan said that in fact, he saw some silver linings in this otherwise difficult season for the Jets and their fans, specifically with some of the younger players who were added to the roster and got experience during the season.
"When you look back on our season, we're not happy with the record and with how everything worked out," he said. "But there are some positives in there. We had a very large amount of injuries — probably as many as we've had as far back as we've been keeping track here. But that also to a certain degree allowed for some of the young players to actually play.
"I feel good about our young receivers. I think Brandon Shell didn't get a chance to play very much early in the season, but partly due to injuries but also because the coaches felt comfortable with him, he went in there and played well. I think [cornerback Juston] Burris did some good things late when he finally got a chance to play more. So there are some young pieces in there that we feel good about."
As far as individual evaluations, Maccagnan was judicious in his remarks. Quarterback was a popular source of questions, in particular why second-round rookie Christian Hackenberg didn't get to play this year. "Mac" said he "supported" Bowles' decision on how to deploy his QBs, this past year and in 2017: "With every player we have on the roster, Todd will determine the order of who lines up first, second and third, but all those guys will be in the mix to potentially compete."
Some veterans had down years, but the GM still had their backs:
Darrelle Revis: "I think Darrelle ... has high expectations for himself. I don't think he necessarily played to probably how he felt his expectations for this season. We have high expectations for Darrelle also, in terms of his play. Going forward, that's something we're going to sit down with all of the players this offseason and examine that. I'm not necessarily going to weigh in on Darrelle in that situation right now."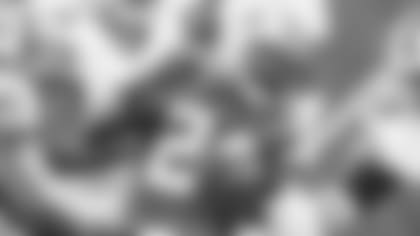 Muhammad Wilkerson: "I don't think this season necessarily was up to his standards. You can talk about whether it was [because he was ] coming off the injury. We do feel good about signing Mo, but I will say this: We have high expectations for Mo to get back to the form he had last season, and that'll be the focus of this offseason, to make sure he gets back to the level of play we expect of him and he quite frankly expects of himself."
Brandon Marshall: "I think Brandon still is a very good player. With our season as a whole, we were not as consistent as we were a year ago. Every player may decline slightly, but I do think Brandon is still a very good player and I don't think he declined significantly."
Maccagnan's method is to hold his cards close to his vest, and he'll continue to do that heading into this offseason. "I would say simply that going into free agency, I'm not going to sit there and tell everybody else in the league this is what we're going to do, but we'll potentially be active like we have been." Yet the long-range goal "has always been to keep building this thing through the draft."
And Maccagnan asked the Green & White faithful to keep the faith as the franchise moves into '17, because the Jets hierarchy shares their hopes and dreams.
"When we came into it, we knew this was going to be a process and take time. We're going to put the most competitive team on the field that we can," he said. "And what I can say to Jets fans is that we're like them. These losses hurt and we can't get there fast enough for us.
"But we also have to do it in a judicious way that makes sense and has the ability to build a team that's consistently good. That's our ideal plan."