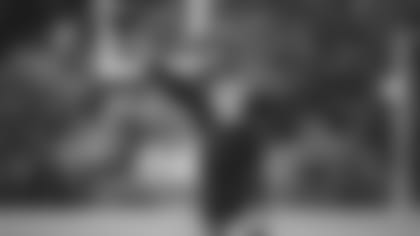 Anyone who showed up for Tuesday's offseason workout hoping to see Aaron Rodgers display some of his offensive magic was a bit disappointed at the early developments. The Jets' new quarterback went through warmups at midday, then "retired" to the sideline because, he said, "I tweaked my calf a little so I just decided to take a vet day."
But the Rodgers effect remains in full force. It's still being felt around the Atlantic Health Jets Training Center every hour of the day as No. 8 continues to learn about his new teammates and they keep learning about him. And he gives no signs of growing tired of the surreality of it all.
"Honestly, every day has been that for me," he said at his postpractice media avail of the knowledge that the Jets are the place for him. "Every day I wake up excited about coming to the facility. I have excitement about coming down Jets Drive. It was surreal for sure, and strange, seeing my locker, seeing number 8, rocking the Jets. The year has been strange for sure. But every day there's another little sign or synchronicity that's cool, that reminds me I'm in the right place."
Many of the signs come inside the meeting rooms, where Rodgers is doing what he's always done in speaking up and explaining things. But now, after 18 years in Green Bay and 15 as the Packers starter, he's got a new audience.
"I haven't been to OTAs the last couple of years, so it's been nice to be out there, be in meetings, speaking up about certain things, adjustments in the offense, additional coaching points," he said. "Obviously, I've got a lot of history with Nathaniel [Hackett, the Jets new OC] and he gives me the opportunity to speak up in meetings."
So does head coach Robert Saleh, in more ways than just on pigskin topics.
"I love working with Robert. I've had a ton of respect for him over the years. I love the way he leads a room, how he goes about his business," said Rodgers, whose Pack offenses ran into Saleh's 49ers defenses a few times. "I really enjoy the freedom of expression, that guys are themselves all the time and enjoy showing their personalities off. He allows for silliness at times, the latitude of that personal expression which is so important for guys feeling comfortable — but not too comfortable. He does a good job of balancing accountability with freedom."
Saleh's pithy observation of Rodgers earlier in the day: "He's still a kid in an old man's body. He's having a blast."
But consider that Saleh talking point about getting comfy but not too comfy. Rodgers believes it, too. And that's another thing that fans may not see about his interactions with his new mates but that will have a huge impact on the Jets this season.
Take Monday's practice. Rodgers explained he's not a rah-rah QB but feels "there are times you need to speak up and reframe situations. The thing I do stress, and I did with those guys yesterday, was that we need to be intentional. You can't just come out here and go through the motions and check a box, and be so worried about doing something the right way that you turn your brain off and become a robot out there.
"Everything we do needs to have a purpose and an intention. And the attention to detail yesterday was not good enough, with the fundamental things, and the finish and the ball security, which are two of the most important things in our game, ball security being No. 1. I just felt we were really loose with the football at times, and then the finish was not quite there."
Did his new teammates see a side of Rodgers with that mild, instructional but still pointed pep talk? Heck no. TE C.J. Uzomah is a happy dude under the worst of circumstances, and he's ecstatic to have a front row seat at the ARod show.
"It's been pretty dope, to be honest, just having his presence, his insight into football.," Uzomah said. "I'm learning a lot now just with concepts, coverages, how he wants us to run certain things. He's opening up the playbook. Meetings are the biggest, where we feel his presence the most, I guess.
"He's an expert, he's a GOAT. So It's nice to have him out there. ... It's been amazing."
See the 2023 Jets on the field for the second practice during OTAs.