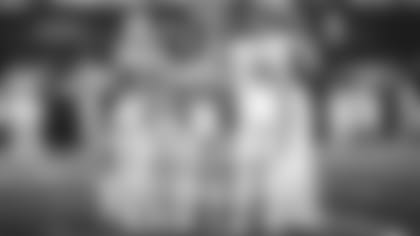 Jets HC Robert Saleh has been there for an NFL game -- there being London -- and done that -- three times.
Asked again about the team's specific travel plans, Saleh elected to praise the club's Athletic Care and Performance Department, saying that the department's staff was "doing a nice job."
"I'm not going to get into the plan, but I like what they put together so we're ready to roll," the coach said on Wednesday, one day before the Green & White departs for an overnight flight to Britain.
The Performance Department has been at work on a program to help the players get acclimated to the time change (+5 hours). Saleh is striving to keep the players' routine as familiar as possible and WR Keelan Cole said it's all about getting enough sleep, either on the plane or when the team arrives in England.
"Three times when I was in Jacksonville [as linebackers coach in 2014-16] and here's a little background," Saleh said. "The whole league uses it as an example. My first year we were on the road in Cincinnati and traveled right out from there after the game, a 33-23 loss]. It was a miserable week. We lost [31-17 to Dallas]. The next year we did it on Thursday and that for me, at least talking to players, was the best they felt on a Sunday. We won [beating Buffalo, 34-31] and did it again the next year, and won [30-27 over Indianapolis]. The Performance Department has a really cool plan, from leaving Thursday night. There's a regimen put in place, the performance staff has a really good plan. I'm anxious to see how it works."
The Jets (1-3) last trip to London was in 2015 when they beat the Dolphins at Wembley Stadium, 24-17. The Falcons (1-3) wasted a 21-0 halftime lead in their last London appearance, in 2014, losing to the Lions, 22-21.
Last Sunday, after three losses to open the 2021 season, Saleh said he felt a definite change in his players after RB Michael Carter crashed in from 2 yards out in the second quarter. It was his first TD as a professional player and also the Jets first TD in the first half this season.
"We finished the drive, and I could feel the sense of relief on the entire sideline," Saleh said. "It was 'let's go.' We were in the locker room 9-7. When you have a young group that gets a little success it really snowballs, and guys feel like they've become invincible. It's a matter of getting early success and putting in the plays to give them that success."
The overtime victory against Tennessee provided a collective sigh of relief for Saleh, his coaching staff, his players and the legion of Jets fans.
"I feel like we're getting better," Saleh said. "More comfortable with the schemes. I'm hopeful, I see us getting faster, in all three phases playing at another speed on Sunday. There's so much to be had. We're getting more effective in techniques, and what I've asked of each player -- to be responsible and be able to unlock their athleticism as we continue to grow, rack up reps and get faster."
Atlanta comes into Sunday's game with the same record as the Jets, but the Falcons defense is last in the NFL in opponents' passer rating (121), tied for last in TD passes allowed (11) and 27th in opponents' passing accuracy (70.1%). By contrast, the Jets defense, schemed by coordinator Jeff Ulbrich, logged 7 sacks last week and is the engine driving the team. Still, Saleh and his staff know that Falcons QB Matt Ryan, 36, is experienced and dangerous, given sufficient time.
"He's a veteran that has been successful his entire career, one of the best in the league," Saleh said. "He has tremendous arm talent, he's one of the bigger competitors, a really, really, really good competitor. He's a dog, always fighting. If he was mic'd up during the game you'd hear more cuss words than you could imagine. He's very talented."
For Saleh, heading into his fifth game in charge has yielded a sense of calm, at times, while also giving the Jets thoughtful and driven coach a few minutes to reflect.
"I kind of go with the flow of the game," he said. "I'm always self-reflective, what more can I do with the coordinators? It's been a learning experience for me also, and it's been good. We want to win all of them and things have been as expected. We have a great group of young men who are great to work with and show up each day. They make it easier."
Easier how? "Just not being so bored," he said. "Being able to have interaction, game planning. In the preseason you just call plays and you're mostly sitting there twiddling your thumbs. Now there's more game planning involved, it's easier to have conversations."
See the Top Photos from Wednesday's Practice Leading Up to the Green & White's Trip to London