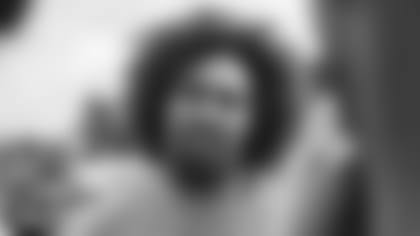 Entering his fourth training camp, Jets defensive lineman Leonard Williams is ready to win, but ready to grind.
"I'm definitely ready to compete and be one of those teams at the top, but we can't look ahead of camp," Williams told reporters Thursday. "We can't look ahead of today. We can't look ahead at all. If we take an L, we can't harp on it. We have to keep moving forward. If we get a win, we can't get too high. We have to stay steady all season and it starts today."
The 2015 No. 6 overall pick tasted success as a rookie as the Green & White finished with a 10-6 record and finished one game short of a postseason berth. Since, the Jets have posted consecutive 5-11 campaigns and flooded the roster with a young core. With only three players over the age of 30, Williams is excited about the direction the team is heading.
"Every year feels different," he said. "Something Muhammad Wilkerson told me when I first came in as a rookie is that every year is going to be a different team. It's true. Every year I've been here has been different and you have to play with what you have. At the same time, I'm really excited about what we have. We have a lot of great younger guys, a lot of great older leaders on the team and I trust our coaches. It starts today."
The Big Cat is the Jets' longest tenured D-lineman and he's ready to take on more of a leadership role if need be. He said he still relies on the knowledge of guys like DL Steve McLendon and QB Josh McCown, but when Williams steps up and says something, his teammates listen.
"I don't think I'll ever reach the stage where I'm okay. I think every year I want to get better, so I'll never be like 'Okay I made it,' " he said. "At the same time, I feel like I have more knowledge of the game. I've always been young and have had the physical attributes and talent. But being able to learn from the older guys like Steve McLendon, being in the league for a long time and having good mentors has definitely helped me keen in on small details to make me better."
Offering a self-scout, Williams said one of his main goals this season is to focus on his pad levels while battling fatigue late in games.
"I think just focusing on it and that's something I've been talking to my coaches a lot about," he said. "We mainly see it when it's fatigue. I think it's mostly a mental thing, honestly. When I'm tired, I can't take plays off. I just have to think about it. The more I work on it, the easier it'll get and become second nature."