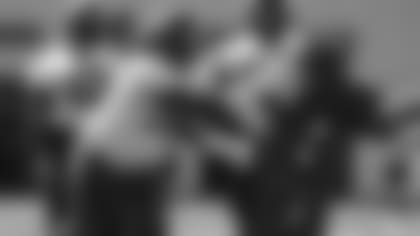 Even though the pads will remain in the equipment room until training camp opens in late July, that hasn't stopped the Jets from jumpstarting the fire.
"That's one thing I've been loving so much about this year so far, the competitiveness," defensive lineman Leonard Williams said. "It starts with the coaches. Adam Gase is a crazy offensive coordinator and Gregg [Williams] is obviously a crazy D-coordinator, so having those two go at it at practice kind of trickles down to the players, who go at it, too. It's in a healthy way. It's competition, getting better."
Williams later added, "I feel like that's the mentality we're going to bring to the whole team. There's a lot of fire in everybody right now. Everyone is coming to work every day and people are getting better. You see it."
In the two OTAs the media has been allowed access to, the energy was palpable. Both sides of the ball were chirping at one another, trying to one-up each other both with their mouths and their play. Like any practice, the offense got the best of the defense and vice versa. But from an identity standpoint, it's kind of like looking at yourself in the mirror — both are striving to be fast and aggressive.
"I don't want to get into specifics, but there's just certain things that Gregg expects out of us that'll help us not sink and help us not react, but just attack," Williams said. "Sometimes it's like, 'If this happens, it's okay. We have linebackers for a reason.' It's just helping us get off the ball and attack, attack, attack. I just love the mentality."
The Big Cat is also a big fan of his new defensive coordinator, who brings a quality to the game similar to that of the 24-year-old's DL coach at USC and current LSU head coach, Ed Orgeron.
"The reason why I say that is because he was so intense that it brought the best out of me," Williams said of Orgeron. "I'll be in meetings and hear [Williams'] voice and sit up straight or he'll tell me something with so much intensity that I know how much passion he has behind it and it makes me have that same type of passion and fire for it. We just feed off of each other and I like that passion that he has."
Gregg has been simplifying the calls as the group continues to install its base defense, so the players can "fly around without thinking" during OTAs. This is only the second scheme Leo has been a part of as he enters his fifth NFL season and contract year.
"I try not to think about that stuff and let my play do that," said Williams, who's totaled 17 sacks and easily leads the Green & White with 85 quarterback hits in four seasons. "At the end of the day, that's what's going to get my contract, my play on the field. I've been trying to figure out the defense, play as fast as possible and do what the coaches are expecting out of me and do what I can to help win. I feel like by doing that, everything else will come along."