I never met Ralph Wilson, but I felt like I lost a friend today when Buffalo Bills president Russ Brandon announced the passing of the Hall of Fame Bills owner.
Growing up a mile and a half from the stadium that bears Wilson's name in Orchard Park, NY, the Bills were my childhood team.  My father mustered up the money to take me to a game a year and the Bills represented the AFC in the Super Bowl each of my four high school years.  Fall Sunday mornings in Western New York were unique because everything would shut down for three hours when the Bills were in action.  It was like Friday Night Lights on a professional level.  Bills flags on seemingly every house, endless tailgates and even the local priests would end morning mass by asking, "Should we pray for the Bills today?"
It was a way of life and the adolescent me never really grasped who this Ralph Wilson guy was.
Wilson was part of "The Foolish Club," eight businessmen who founded the American Football League.  He purchased the Buffalo franchise in 1959 for $25,000, which at that time was considered a risky investment.  He famously lent the Oakland Raiders tens of thousands to keep the Silver & Black afloat and also gave the Patriots a franchise-saving loan.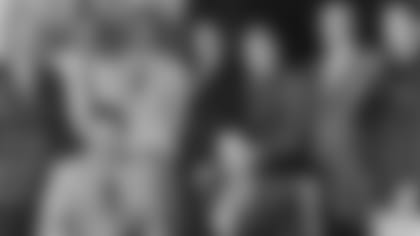 In 1964, Wilson negotiated the television contract with NBC that allowed the AFL to battle the NFL for players.  Weeb Ewbank's Jets would ultimately change the football landscape with their Super Bowl III victory over the NFL's Baltimore Colts.  But the victory was celebrated by the entire AFL and I remember my dad telling me that the Bills fans saluted Namath and the Green & White with a standing ovation when they came to War Memorial Stadium (The Old Rockpile) during the 1969 regular season.
Three years before my birth, the Bills moved to the suburbs and called Orchard Park their home.  Despite operating in a tiny economic market, Wilson never left for a more lucrative option.  Tremendous Buffalo News sportswriter Mark Gaughan pulled this quote today when he looked back at Wilson.
"The strength of the Bills franchise is the passion of the fans," Wilson said after signing a 15-year lease deal in 1997. "Buffalo is a community of down-to-earth, hard-working families who, in large numbers, are also avid sports fans. You know how the people here feel about you because they are very straightforward. That is a quality I admire."
Wilson, a World War II veteran who was finally enshrined into the Pro Football Hall of Fame in 2009, was 95 years old.  Maybe he wasn't so foolish after all considering that Forbes now estimates that the Bills are worth $870 million.  He was truly a football pioneer who did a lot of great things for our league and my hometown.