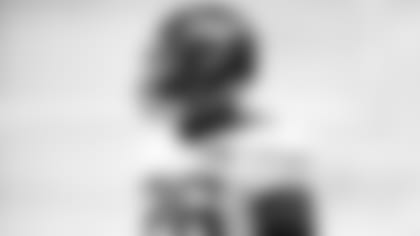 Count Le'Veon Bell in with Jamal Adams, Sam Darnold and the rest of the Jets as a player who wants to win the last game of the season as if it had an impact on the postseason, and we don't mean golfing in Florida.
"Yeah, that's the goal," the running back said of ending this season with a bang, even though the first half was a dud. "Obviously, the Steelers were playing for a playoff spot, they were desperate for a win. For us to go out there and beat them was really satisfying.
"So we want to do the same thing with the Bills. They've already clinched the playoffs, they've been consistent all year, just about. They beat us the first time, so we want to go out there and at least split the score and get a revenge game."
Many of the questions for Bell after Friday's practice dealt with the offseason and next season and if he wants to continue into Year 2 with the Green & White. He acknowledged that he doesn't control trade talk but yes, he wants to stick with the Jets program that he officially started out with almost 17 weeks ago on opening day against these same Bills.
"I've been harping on that the whole time," he said about wanting to help build the Jets. "Everybody's been talking about a trade and everything — I don't even know why that was popping up. I just answer the questions about trades when they come up. But I wouldn't have signed here for four years if I didn't want to be here for four years.
"And when I did sign here, I didn't expect us to go 16-0. I knew it was going to be a process — a young quarterback, a whole group of guys coming in, new coordinators, new coaches. It's not like basketball where you can take one or two players and try to change a team. It's 11 people out there playing on each side of the ball. ... I understand it takes a process, and if I didn't understand that, I'd be naive, I guess."
Bell is not naive but he is, as he has said, patient. And he had to be as the first half of the season unfolded at 1-7.
"Football's really the one game you can experience a lot of emotions. I never try to get too high if I'm doing well or too low when I'm not doing too well," he said. "This football year's been different, but I went out there making sure I'm always coming in here and being a jolly guy. I know my teammates are looking for me to be a leader. I always try to make sure I keep a straight face and help push guys along and they can follow my lead."
His lead at least statistically was at a slower pace then it had been in his five stellar Steelers seasons. But just as with the team at large, his season started to pick up a quantum of momentum at the start of the second half of the schedule. His rushes and touches went up slight, his rush yards elevated by 7.1 yards/game and his yards from scrimmage has averaged 91 yards/game over the last seven games.
And for his new team, the Jets have gone from a 1-7 first half to the possibility of nailing down their first 6-2 second half since, if you can believe it, 2006. All they have to do is knock off their old friends/foes the Bills in the rain in Western New York. And Bell is focusing on that above all else this week.
"It's definitely something to build off of," he said. "That'll give us, I think, a little momentum heading into next year. ... I don't want to talk about next year or anything like that. But this game coming up, we definitely want to get the W. We know it's a good football team and if we beat that team, we'll know where we should be standing."
See Best Images from the Practice Field Leading Up to the Trip to Buffalo