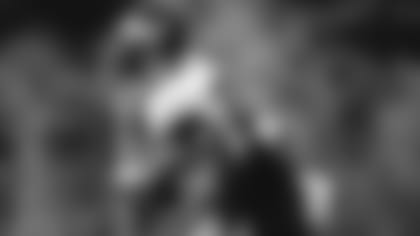 Le'Veon Bell is fully aware that the Jets offense needs to step up its game. And while they need to improve in many areas, the return of quarterback Sam Darnold to practice has already provided the star running back a jolt.
"I'm happy as hell that he's back," said Bell of Darnold. "I can't wait."
Darnold, who hasn't been cleared by doctors to play Sunday against the Eagles, took the majority of the first-team reps this week while sporting a red non-contact jersey. Despite Darnold missing the past two games due to mono, the 6'1", 225-pound Bell hasn't noticed a drop in the second-year quarterback's game.
"I think if you ask him, he'll feel like there are some things he can do better. But for me in my eye, he looks the same," Bell said. "The ball is coming out clean, the throws are accurate, they're on time. He looks like the same guy. He's going to keep striving to get better and I'm obviously hoping he'll be out there Sunday."
Although the USC product's reappearance is encouraging, the Jets' offensive struggles run deeper than just the absence of Darnold.
"Just constant mistakes really. I think a lot of it we've put on ourselves, and we just really have to fix our mistakes," Bell said "I feel like special teams has been doing a good job, defense is doing a good job, but the offense hasn't been great yet. Once we get that going and guys get on the details and the offense starts clicking, we'll really have a great team. So we just have to keep working on the details and get better."
Throughout the first three games of the season, the Green and White's offense struggled to find a rhythm and scored just one touchdown— a Bell TD catch —that came against the Bills in Week 1. The Jets also rank 28th in the league in rushing, averaging 65.7 yards per game.
"It could be one play or two plays that kill a drive, so that can kind of set everything back," Bell said. "I think once we get more consistent with our assignments and just making the plays and making sure everybody is on the same page and moving, we're going to be fine."
Though it's been an uneven start, Bell is confident in the way the team is trending as a whole. One of the most notable changes for the sixth-year veteran has been the unity in the classroom and players taking responsibility for their mistakes. 
"After the New England game, we all watched film together — offense, defense and special teams. Everybody was held accountable in one big train. I think that kind of helped the offense understand a little better what the defense is doing and the defense understands what the special teams is doing and everybody is getting on the same page to see what's going wrong," he said. "If I made a mistake, they put me on the board and then everybody saw me make a mistake, so guys can hold me accountable, and vice versa. As long as we hold each other accountable and push each other to get better, that's how you win football games."