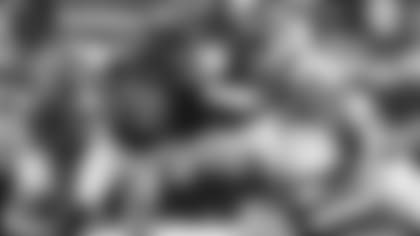 Le'Veon Bell reminded fans in the Jets' 34-3 win over the Raiders on Sunday that he's more than a running back. Bell totaled 108 yards from scrimmage — 59 receiving yards on 5 receptions and 12 carries for 49 rushing yards—the third time this season he's eclipsed the century mark.
"It feels amazing," Bell said. "[My teammates] have been joking with me all day because I'm feeling good right now. I'm feeling crazy. I'm just glad everything is coming together, guys are playing well, we didn't turn the ball over and got a couple turnovers, some hits on the quarterback. The offensive line is doing well. I can't complain. We're playing really good football right now."
The sixth-year-pro got involved early Sunday, totaling eight touches in the first quarter and 12 in the first half. On the team's first offensive play, QB Sam Darnold hit Bell up the sideline for a one-handed 23-yard catch that put the Green & White near midfield. Bell said Coach Adam Gase did a good job calling plays and he knew Darnold would be looking for him.
"Most weeks, we try to do the same thing as far as trying to get him going in a rhythm," Gase said. "I thought the line did a good job of creating some holes for him. He did a good job of getting through some of those tackles around his legs. That's how most people are trying to tackle him, they try to go low on him and he stepped out of quite a few of them. It felt like we got him going a little bit today."
Darnold added: "It was huge [to get him involved early]. Whenever we can get a great player like him involved early it makes a difference and it gets us in a rhythm."
The Jets, leading 13-3, received the second-half kickoff and immediately turned to Bell with a pair of runs that moved the chains. Two plays later, Ryan Griffin extended the lead to 20-3 with a 1-yard TD score that was set up by Braxton Berrios' 69-yard pitch-and-catch.
"We understood that we had to ball coming out and we wanted to make a statement, so we threw the ball right down the field and got points," Bell said. "That kind of put the game away a little bit because we ended up getting a turnover right after that and another touchdown. That's what kind of solidified the game, that first drive after the half and I'm glad we did it like that."
Bell, who's known for his patient running style, preached similar patience earlier this season during the team's struggles. In the Jets' current three-game win streak, the offense has averaged 34 points and 365 yards a game, and has eclipsed 400 yards in Weeks 11 and 12.
"It means everything in the world to me just because I knew what this group could do and we're not done," Bell said. "We're obviously still getting better. We played good enough to win today, but we didn't play a perfect game. We're going to watch the film, clean up a lot of things and continue to get better. We have the Bengals next week, so that should be one we feel confident about ourselves. We're playing well, we're going to Cincinnati to try and stack another win."