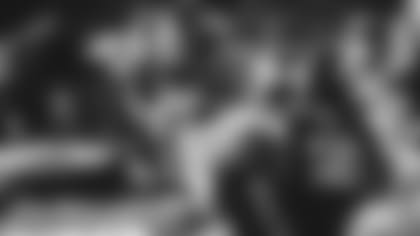 Before the season, Jets veteran LB C.J. Mosley set out to achieve two goals: "Grow" as both a player and leader. Seventeen games later, he achieved both and steered the Jets defense to a record turnaround that they plan to build on.
"We proved to ourselves and we proved to the league that we're capable of playing meaningful bigtime games," Mosley said. "And now I think this is really a stepping point for us to build off what we've done this past year and just keep getting better."
Mosley, the Jets captain on defense, led a reversal this season from 32nd in the league in scoring and total defense last season to finishing fourth in each statistical category. The Jets are the first team in the Super Bowl era to rank in the top 10 in both categories after last-place finishes the season before.
And in his third season with the Green & White, the former Baltimore defender earned a trip to his fifth Pro Bowl — and first as a Jet — amassing 158 tackles, which was the ninth-most in the NFL and second-most of his career.
"Last year, I was just really just focused on doing my job," Mosley said, "and making sure that the defense was straight and got the plays out. And now, for this year, I really felt like I took my pass game and running game to another level."
Mosley credited the defensive 180 to a strong offseason and better familiarity with the scheme in his second season under defensive coordinator Jeff Ulbrich and head coach Robert Saleh.
"When we got together," Mosley said, "it felt like we had just started from a whole different level from the 2021 season. … Plus, with players that we drafted and the players that came from free agency, everybody really just had a spectacular year."
After a disappointing six straight losses to close the season following a 7-4 start, however, Mosley said there is room for growth throughout the unit. To the veteran linebacker, this summer is about stacking another strong offseason on top of what they learned during the "meaningful games" they played in December. The goal next season is the playoffs.
"I am going to go back and just kind of self-scout," Mosley said, "and see how I can get one inch closer to the ball.
"Getting into the playoffs is next. That's what we played for and that's what we set ourselves up for this year. And as I said, we didn't finish the way we wanted to. We didn't get that ticket. But we saw the right ways to do."