Lawrence Thomas is a now-you-see-him-now-you-don't kind of player.
An undrafted free agent out of Michigan State last year, Thomas stealthily passed all the offseason and training camp checkpoints to where, lo and behold, he drew a starting assignment on the Jets D-line for last year's season opener against the Bengals. It was a scheme start, but nevertheless Thomas showed some of what the coaching staff liked about him with four tackles, including 1½ for loss, on 28 defensive snaps.
He played in the next two games as well. And then he disappeared.
"People don't know that I came here with the injury," the unassuming Thomas said of the torn labrum in his shoulder that he got in the 2015 Big Ten Championship Game. "I had to just grind it out in the Senior Bowl and the Combine, and when I got here, I had to grind it out as well. I was blessed to be able to get that far in the season, till it was just time to get it fixed.
"It really didn't surprise me," he said, reflecting on that start in his first game as a pro. "Just by me being a coachable guy and a humble guy and having leaders in front of me, they brought me in, took me under their wing and were teaching me everything I needed to know. I just came in here with my head down and worked hard and it showed."
This offseason, Thomas was back, somewhat under the radar again, beginning the work all over again to retain his spot on the defensive line — which, despite the comings and goings on the team all offseason, still remains the bedrock of the D.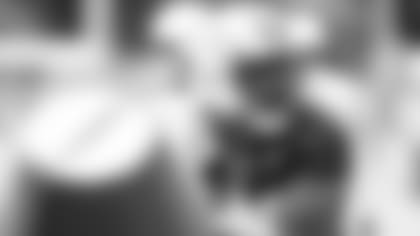 Where does the 6'3", 286-pounder get his persistence from? We'd say a lot of it his from his upbringing. He hails from within the city limits of Detroit, a city that had been down for a while but that Thomas assures, "Yeah, it's coming back. It's not a bad place at all. You've just got to be smart."
As for his college days, he said, "Michigan State is a program where you learn to fight through things. That's what I had to do."
Not surprisingly, this meat-and-potatoes Midwesterner will be returning home for the next five weeks before training camp. Part of it will be revisiting with his family and also paying back some of those programs that made him the player he is.
"I'm going back to my Police Athletic League team, the Detroit Panthers, and talk to them, and I'll go back to my high school, Detroit Renaissance," he said. "And you know I'm going to go back to Michigan State and get a couple of workouts in."
Then after July 4, Thomas will return to North Jersey, where his workouts will run right into camp at the Atlantic Health Jets Training Center as he tries again to climb on the radar as a member of the DL rotation.
"The camaraderie in the room is great," he said. "We all know each other's potential, so we come in to work every day, everybody's just hunger, trying to accomplish something new. The guys never get complacent. And by me coming in, I see that the competition is always there. We compete every day, and that's what makes us stronger, like a brotherhood in the room. So that's always a positive."