Hey, Jets fans, It's Laura! I hope you are all enjoying our season so far because I know I am. It has been amazing and it is only going to get even better.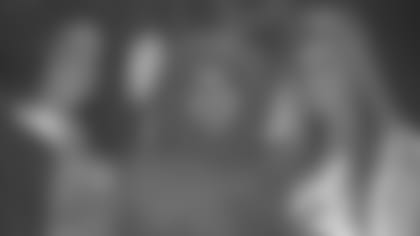 The part I love most about football is the weather. It goes from one extreme to another, but my favorite type of weather is October. It is the time of year when all of the leaves are changing and the air is crisp and most of all, HALLOWEEN!
Ever since I was a little girl I absolutely love Halloween. It is my favorite time of year because I love going to haunted houses, watching scary movies — and best of all, getting to dress up. Every year, my friends and I try to go to a haunted house that we have never been to and this year we went to Blood Manor in the city, which was super fun. I have also been to Wading River, Bayville and Melville, and all of them are awesome.
I love decorating the house with my parents. We have a ton of decorations all over our house such as spider webs in the windows, candle pumpkins, ghosts, and a giant skeleton which hangs on our tree right outside our house.
My family's ritual is to go pumpkin picking during the day, to pick the biggest pumpkin out there, and see if we can find any more fun decorations for the house. We then get our hot apple cider for the car ride home and then spend the rest of the day decorating and carving out our pumpkin so we can put him on the stoop for all the trick-or-treaters to see.
Last year was one of my favorite Halloweens because we had a game on October 31st and we did a whole pregame to Thriller, as well as dances to Monster Mash and a few other Halloween songs. It was an early game so I got to come home and still see the trick-or-treaters and pass out delicious candy and treat myself to my favorite, Reese's Peanut Butter Cups!
I hope you fans enjoyed reading my blog about my favorite time of year. Now I have to figure out what I want to dress up as for Halloween! See you on the field!