Hey there, Jet's fans — it's Katie!
This is my rookie year on the Flight Crew for those of you that don't know me yet and I am absolutely ecstatic for the upcoming season. However, let me change subjects for a minute and give you some insight into my upbringing.
I was originally born in Tallinn, Estonia. For those of you that don't know, Estonia used to be a part of Russia for a very long time until it finally gained its independence. Now you can find it right next to Finland.
Back to my story: I grew up in a completely different setting than where I am now.I started dancing when I was 2 and quickly after that, my mom enrolled me in rhythmic gymnastics as well. At that point, I would never have imagined that one day I would be in America dancing for the NFL, and best of all, for the New York Jets!
In Estonia, there was no such thing as the NFL. I had never even heard of American football. If anyone ever said football, I would think of what America calls soccer. Dance quickly became my passion and I knew it was something I wanted to do for the rest of my life but I never would have imagined that this is how I would be living out my dream.
I lived in Estonia till I was 8 years old and that's when I moved to the "Land of Opportunities." Moving to such a different country and trying to adjust to everything was the most intimidating thing I have ever done. The differences between the two countries are enormous. Relating to the language, the food, and the people was extremely difficult for me at first. I would come home from school to my family and have breakdowns about how I thought I would never be able to fit in and learn the language.
That's when my family signed me up for dance once again, and right away that helped me with everything. I was happy to be dancing again and being around people helped me to fit in, and I picked the language up in no time. Ever since I moved here and was enrolled in dance classes, I haven't stopped dancing.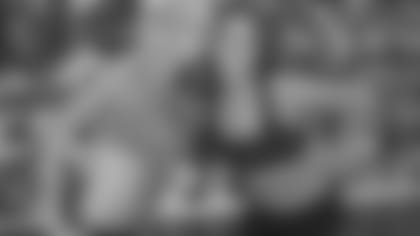 Being able to perform in front of a huge crowd eventually became a dream of mine, and as I got older the New York Jets Flight Crew was what I wanted to work towards and eventually be a part of. I worked extremely hard to prepare myself as best as I could for such an amazing team.
All my hard work finally paid off when my name was called at the final round of auditions and I became part of our wonderful 2011 Flight Crew squad!
My life has greatly changed ever since I have moved to America and I am so thankful for all of my opportunities. I am especially appreciative of the chance I have been given to be a part of a team with the most remarkable 41 girls, who are all amazing in their own special way, and our fantastic director, Denise Garvey. Thinking back to when I lived in Estonia, I never would have envisioned that this would be my life. I still wake up every morning and can't believe this is real. It is absolutely breathtaking!
I've only been a part of this team for about four months and already have had many unforgettable moments. One, for example, would include stepping on the field last Sunday night at New Meadowlands Stadium and being able to perform for all of the wonderful Jets fans. The game that night was surreal and it is an experience I will carry on with me for the rest of my life.
This is going to be an amazing season for both the Flight Crew Cheerleaders and the New York Jets. Hope to see you all crowding those stands!