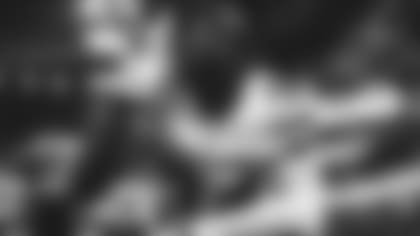 It takes a special kind of player -- a special kind of person -- to dedicate his career to being the best special teams player he can be in the NFL.
Meet Jets' gunner Justin Hardee.
Signed to a three-year contract in free agency after four seasons with the New Orleans Saints, Hardee (6-1, 200) has in the past been listed as a wide receiver (which he was in college at Illinois) or a defensive back (a designation he flirted with in a brief stay with Houston and later in the Big Easy). But so far in 10 games in the 2021 season, Hardee has been nothing but a special teams player for the Jets -- never taking fewer than 75% of ST snaps, and his value should not be underestimated.
This week he gets to return to Houston to face a Texans team that signed him as an undrafted free agent. In early December, Hardee will have the opportunity to face his former Saints teammates.
"Sunday will be here soon and I'll be able to show on the field, I don't really have to talk about it now," he told team reporter Eric Allen and Leger Douzable on the latest installment of "The Official Jets Podcast." "In a few weeks I get to face my other former team. I'll talk during the game. I'll talk on the field. I definitely have a lot to say."
While the chatter on the field is a given, during this Thanksgiving Day holiday Hardee's words and thoughts drift elsewhere. In his heart, he feels the absence of his mother, Estella Perryman, who died at age 55 in 2013. That pain never goes away. Now the Cleveland native has had to deal with another loss -- the death in an apartment fire last month of his friend since seventh grade, former Ohio State DB De'van Bogard.
"Everything I do, every decision I make is for them," Hardee said. "I lost my best friend a few weeks ago. It's crazy. It's life and reality. You have to keep pushing for them. Every honor I receive is for them. They keep me going. Keep me positive. I could be walking around sad, but I know they wouldn't want that."
For most people, the holidays can be a time fraught with memories and a profound senses of loss. Hardee said that his favorite memories are simple: "The memory of spending time with loved ones that I've lost, those times were the best. Those are the best memories, so that's that."
Hardee has taken a circuitous route to the Jets, in terms of the position he plays and the manner in which he ended up as one of the game's premier gunners.
"Hardee is probably one of the best in football at that position," Jets HC Robert Saleh said last month. "On top of it, his leadership skills, his deliberateness, his veteran presence, he's everything that you would want out of a football player from a character standpoint. As a gunner, which is a very underrated position, and one of my favorites because it represents manhood, he's pretty darn good at it."
For a coach not usually prone to hyperbole, that's indeed high praise. But as an undrafted free agent, Hardee knew his path could and would be rocky.
"When I got in the NFL, I was an offensive guy, I really didn't play much senior year in college," Hardee said. "The team we're playing this week is where I started off as a wide receiver. There was a time when I just felt like there was nothing left for me to do, I had to throw my body in there, either do that or I would be home. I wouldn't have a story in the NFL. I knew that I had to feed my family and I felt like that was my way. They're [gunners] the elite guys at their position, knowing that there's only one or two per team. If I do something, I want to be the best at it."
In his first two weeks with the Texans, Hardee struggled with a hamstring injury but was kept around by HC Bill O'Brien. He stayed through the summer working with strength and conditioning coaches, got into a preseason game late as a special teams player, for three reps. The next day he sought out the ST coach and, with tears in his eyes he said, asked what more could he do to earn more reps.
"He was stunned and said it was 'very professional, you show hard work every day,' " Hardee said. " 'The next game we'll get you more reps.' I went from last on depth chart to second team, I was glad about the progression and he was impressed that I really cared that much."
He said that he seemed to solidify his place when a teammate looked tired. "The coach was looking around and said 'Hardee, get in there. Go in and make a play.' "
Hardee added: "Good stuff. I get another rep. Hardee fights and still makes that play. By this time I feel like my life has changed, I'm getting an opportunity. My confidence is through the roof. Hardee get another rep, makes another play. Three punts back-to-back as the gunner and the coach tells me I've shown enough and can go sit down."
That euphoria didn't last long because Hardee was cut by Houston. His agent soon called and said that New Orleans was interested. There was only one question: Could he play defensive back?
"I say, 'yeah, sign me up,' "he said. "I spent two weeks on the practice squad, got a chance in Week 3 after I go knocking on [HC] Sean Payton's door. I said 'hey coach I appreciate everything, but I feel what I bring to table can benefit this team.' The coach gives me and opportunity. I take full advantage of it. The rest is history."
In Week 9 of the 2017 season, Hardee sent a message that he was here to stay as an elite special teams player when he blocked a punt by Bryan Anger and returned it for a touchdown in a 30–10 win over the Buccaneers. The played earned him the NFC Special Teams Player of the Week award.
"It's all about being grateful at the opportunities and taking full advantage of every single one you have because it can be taken away in a breath," Hardee said. "It's about being passionate about what you do and about who you are doing it for, being able to take your game and mind to next level. This game is so much mental. I try to prepare myself mentally every day and give all I got."
All that said, Hardee's thoughts -- and motivation -- are wound up in the passing of his friend Bogard, only 27, who played at Ohio State and was an assistant coach at Elyria (OH) High School.
"It's let you know that life is real," Hardee said. "One day you can be gone, so live life to fullest and never take anything for granted. He [Bogard] changed my whole perspective on this season. This year is difficult, it's a rebuilding year, but I'm keeping the faith and have a positive attitude. I know our head coach has a plan, and I'm all in on the plan. I walk in with a smile on my face because of him. I haven't been down. I lost him a few weeks ago. It's been tough. Just stay positive and be happy."