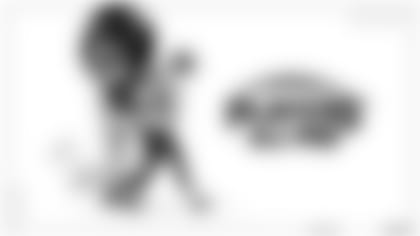 Jets special teamer Justin Hardee was named to the first NFLPA All-Pro team, which was voted on by opposing players and those who play the same position.
Hardee, in his sixth NFL season and second with the Green & White, had a career-high 14 special teams tackles and a forced fumble in the 2022 season.
"Being more consistent, focusing more on special teams in my offseason training," Hardee said about the difference in his play this season. "I told myself I was going to focus more on special teams this offseason than I did on defense. I usually just go into the offseason just focusing on defense because special teams is natural to me. But I put a little bit more focus on special teams and it paid off for me. So I'm very thankful."
In addition to Hardee's tackles total, he played a key role in the team's Week 2 come-from-behind victory at Cleveland, his hometown. He recovered an onside kick with 1:20 remaining in the game. Ten plays later, WR Garrett Wilson scored the game-winning touchdown with 25 seconds left.
"That was like a dream come true," Hardee said. "That's something I'll be able to have forever. And I got that ball still. In front of many friends and family, too."
Hardee first signed with the Texans in 2017 as an undrafted free agent out of Illinois where he played wide receiver. He then spent four seasons with the Saints, emerging as one of their special teams stalwarts before joining the Jets. He will represent the Green & White at the Pro Bowl next month in Las Vegas.
"I fell short for years," Hardee said about the honor. "But I can honestly say, better late than never. I am glad that I happened for me now instead of then, because I appreciate it that much more because I had to go through so much."
He added: "It was just like, wow, one of my dreams actually came true, you know? I didn't get that feeling of being drafted. I didn't get that call, like, 'Hey, man, we're coming to get you,' or anything like that. And I haven't gotten a championship and I haven't gotten a national championship or a state championship in high school or a Super Bowl just yet."
Hardee dedicated the honor to his mom, Estella Perryman, who died on Dec. 12, 2013, after a long struggle with lung disease.
"Every time I walk out on that field, every day, I'm representing her all the time," he said. "Every time."