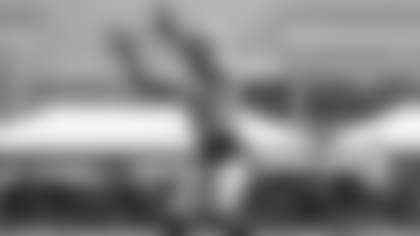 Once compared to NBA Hall of Famer Dennis Rodman for his versatility, Jets wide receiver Quincy Enunwa has drawn a likeness to someone else this year.
"I had the opportunity to play with Anquan Boldin and Quincy kind of has that after catch, that tough mentality," quarterback Josh McCown said. "He reminds me a lot of Anquan, so he brings that edge to an offense. He gets the ball in his hands and makes plays. He is a tough tackle and he plays with incredible will. Every day he's on the field with us I think is a good day for us. I'm glad to have him out here."
Aside from wearing the same 81 on their jerseys, Boldin (6'1", 220) and Enunwa (6'2", 225) have similar build and are considered big-bodied wideouts with no fear of contact. However, McCown isn't the first one to compare the two.
"I think B-Marsh (Brandon Marshall) said that, too, a couple years ago," Enunwa said. "I really appreciate that because I follow Anquan Boldin. I follow all the big receivers like T.O. and those guys. It's cool to be likened to him."
In 2016, Enunwa broke out with 857 yards and four scores on 58 receptions, but the fourth-year veteran missed last season because of a neck injury suffered in training camp. Thus far through training camp, Enunwa has worn a red non-contact pinnie in team periods, but he said he's in good health.
"I'd say it's protocol," he said. "I'm just going on their timeline, doing what I need to do, but I'm having fun with all the progress. There's nothing really stopping me from doing anything, so I can't complain."