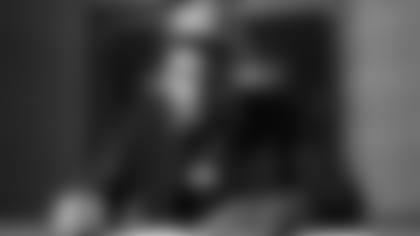 While Josh Bellamy will give the Jets some depth at receiver, the 29-year-old figures to be a starter on possibly all of Brant Boyer's special teams units. But there is one area on specials where he'd actually prefer to be a backup.
"I play everything. I'm a four-phase guy: kickoff, kick return, punt and punt return," Bellamy told Olivia Landis after signing with the Green & White. "I'm trying to be the backup field-goal kicker. I do it all. I'm just here for whatever they need me to do and I'm going to do it."
It should come as no surprise that Bellamy is volunteering to do something extra. The 6'0", 208-pounder was lauded for his work ethic in Chicago and one person who knows firsthand what Bellamy brings to the table is Jets head coach Adam Gase. Bellamy, who had 19 receptions and two receiving touchdowns in 2015 when Gase was Chicago's offensive coordinator, said the Jets' leader was the primary reason he landed in New York.
"Pretty much 90 percent of it," Bellamy said. "Me and Gase have a pretty good relationship. I just love the way he does things and I know what to expect from him. It's all love."
A Louisville product who went undrafted in 2012, Bellamy spent time with the Chiefs, the Chargers and the Redskins before landing with the Bears in 2014. In 63 contests with Chicago, Bellamy had 76 receptions for 999 yards with five touchdowns.
Bellamy has experienced what the Jets are in store for with Gase, indicating his new teammates will have to bring their hard-hats to One Jets Drive each day.
"Be ready to work, he's going to work you. He's going to get it all up out of you," Bellamy said. "He's a grinder, he wants to win. He's going to win and that's just his mentality. If you're a dog, you'll stay. If you're not, get out the way."
After being a member of a 12-4 Bears squad that captured the NFC North last year, Bellamy feels he has joined a club that is on the upswing. The Jets have improved their talent on both offense and defense this week with the additions of a group that includes RB Le'Veon Bell, WR Jamison Crowder, OL Kelechi Osemele and ILB CJ Mosley.
"I feel like this was a good opportunity for me to come over and play and I feel like this organization is on the up this year," Bellamy said. "We have Le'Veon and we added a couple of more guys. We got Jamison, so I'm excited to see what's going to happen."