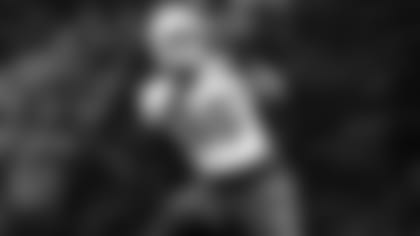 Jets second-year tight end Jordan Leggett came into the NFL with a vision of how his rookie year would play out, but it wasn't on par with what transpired.
Leggett hurt his knee in the second preseason contest and never returned to game action, eventually landing on Injured Reserve in October. This year, he has the opportunity to start for the Jets and could play his first game in the same place his rookie season ended — Ford Field.
"For all the tight ends, it's a lot of space and opportunity, so we're out there working hard, trying to get each other better," he said. "There's a starting job out there, so we're all out there fighting for it every day."
Leggett had midseason surgery to "clean out" his knee, but nothing was torn. At first, he said he was under the impression he'd be medically cleared a few weeks after going down, but small hiccups kept arising and he was eventually shut down for the year. Now, the Clemson product feels 90-100% healthy and wears a brace as a precaution. He said he'll keep the brace for the season and adjust to it because it doesn't slow him down and makes him feel safer. 
On the field, the 6'5", 258-pounder has been participating in all OTAs with the exception of one period per practice, as a safety measure, and hopes to be a full go in this week's minicamp. 
"He's been good," head coach Todd Bowles said. "I mess with him all the time. He catches a bunch of touchdowns in shorts and T-shirt, which is great, but when the pads come on, he just has to stay healthy. It's good to see him running around healthy. It'll be great for him to get in training camp as well."
When the Green & White selected Leggett in the fifth round of the 2017 Draft, they especially liked his receiving ability. In his junior and senior seasons, he combined for 1,261 yards and 15 touchdowns on 86 catches. Leggett had high expectations for himself last year joining a position with many question marks at the time.
"It kind of put them on hold just for last year," he said of his goals. "I had to play a different role not being on the field, just helping other guys in any way possible. They're still there, I still have goals I want to set. Whenever I do happen to get on the field, I'm out there to play ball and try to reach these goals I'm going for."
Leggett returns to a situation similar to last year following the departure of Austin Seferian-Jenkins, who signed with the Jaguars in free agency. Leggett said he believes the team has confidence in the tight ends group that includes Eric Tomlinson, Neal Sterling, Clive Walford and rookie fourth-round pick Chris Herndon. The unit is learning a new offense with coordinator Jeremy Bates at the helm, despite a similar West Coast scheme as last year, and Leggett is a "big fan."
"I love what Bates is doing," he said. "In every way, he's trying to involve the tight end and he's used us in all of the positions. It's a whole lot of fun to play in and I think he's going to do a good job."