The Alliance for Lupus Research, or ALR, is a national organization whose mission is to find better treatments and eventually a cure for lupus. Yet it's had its greatest exposure in the New York area, where Woody Johnson, the Jets chairman and CEO and the founder of the organization, is based and where annual walks have raised much of the funds to battle the silent epidemic.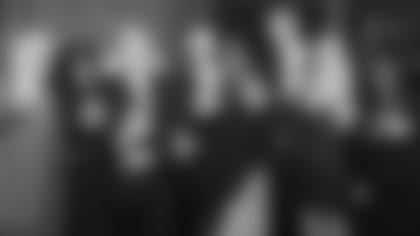 Efforts to bolster the ALR's presence on both coasts and in between continue. Last month Johnson and Louis Lucido, principal and founding member of DoubleLine, an investment management firm, hosted a low-key, no-media dinner at the City Club in Los Angeles to help broaden public awareness and to develop support for this year's sixth annual Los Angeles Walk With Us to Cure Lupus event in November.
"Lupus is a very complex autoimmune disease that still has no cure and 90 percent of those who have it are women," Johnson said. "The Alliance for Lupus Research is doing everything we possibly can to find a cure by funding the best lupus research money can buy. Our efforts here in Los Angeles are a large part of making our mission a reality."
This year's LA walk is set for Nov. 16 at the Rose Bowl in Pasadena, Calif. Johnson and Lucido, co-chair of the event along with Jordan Shur, CEO of Suretone Entertainment, welcomed board members and key constituents to the dinner, with the focus on creating relationships with corporations and businesses in the Los Angeles area that will be willing to spread the word on the West Coast identity of the ALR.
Among the guests were three medical researchers endeavoring to find the cause and cure of lupus: Dr. Daniel Wallace and Dr. Michael Weissman of the Cedars Sinai Medical Center and Dr. Betty Tsao of the UCLA Medical Center.
Ken Farber, ALR president and CEO, topped the list of notables in attendance that included:
■ Greg Ashlock, president/market manager, Clear Channel Media Entertainment and the 2012 Walk co-chair
■ Phil Barach, founder, DoubleLine Capital
■ Robert Hinnen, ALR national director of business development
■ Danny LaVecchia, ALR board member/BGC Partners
■ Erica Mangham, ALR West Coast director
■ Carl Stubner, CEO of Sanctuary 5B Artist Management, a Universal Music Group
■ Tichina Arnold, actress/lupus activist
■ Zanya Arnold, Tichina's sister, who has lupus
■ Vanessa Branch, actress
■ Brett Hoebel, actor/fitness guru on Dr. Oz and other shows
■ Mary McDonough, actress/writer/lupus activist
Lupus is an autoimmune disease in which the immune system attacks the body that affects an estimated 1.5 million Americans. It is very difficult to diagnose because its symptoms, such as kidney failure, neurological complications and chronic fatigue, are representative of other illnesses. One hundred percent of every dollar raised goes directly to support lupus research because the ALR board funds all operational expenses.