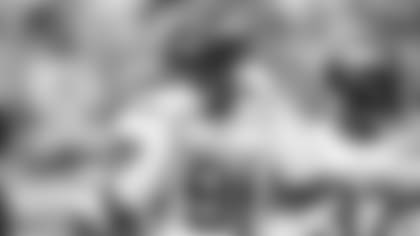 DL John Franklin-Myers got off to a quick start in the NFL 2021 season with three sacks in the Jets' first four games, and he cashed in with a big pay day in October. Before the Jets flew to London for their game against the Atlanta Falcons in Week 5, JFM and the Jets agreed to a four-year contract extension.
"The product that you put on the football field is a reflection of the money you will get obviously," he said at the end of the 2021 season. "Being in that position, I just made sure I put a great product on the field and continue to do that despite having the contract extension already. Just making sure that I am able to keep that money and put on for this team, put on for this organization, because they deserve it."
After his signing became official, an emotional JFM could not hold back tears as he explained what the extension meant to him, and for his son.
"The opportunity to allow my son to get what he wants and do what he wants, and however many kids I have in the future, I think is just a grand opportunity for him and generations to come," he said. "I just owe the Jets so much and I'm looking forward to my future here and helping this team win a championship. [The Jets] deserve it, they gave me an opportunity to feed my family and I am forever indebted to these guys."
The contract extension was something to celebrate at the beginning of what was a career year for JFM. Pro Football Focus gave him a 80.3 grade, which was the highest a Jets player received in the 2021 season. JFM also finished 11th among edge rushers who played at least 50% of their team's snaps. His 6 sacks tied for the team high with DT Quinnen Williams, and his 43 QB pressures and 14 QB hits led the defense. Franklin-Myers paced the defensive line with 692 snaps and had the best statistical outing in a win over the Houston in Week 14, racking up 2 sacks and adding his first career interception, which he returned for 32 yards.
"You know you hear the jokes all the time about how all my family was there, so I had to play well in front of them," Franklin-Myers said of the contest at NRG Stadium that took place approximately 30 minutes from his home in Texas. "Foley [Folorunso] Fatukasi caused the interception. He busted through the line and got some pressure on him and I was able to tip the pass and catch it."
Franklin-Myers started a career-high 16 games, finishing with 35 tackles and 6 TFL. Transitioning to a 4-3 front under HC Robert Saleh and DC Jeff Ulbrich, Franklin-Myers (6-4, 288) was a versatile piece who could rush outside and then shift inside and win on the interior. The Jets' defense suffered a huge blow in August when Carl Lawson, signed in free agency in March, went down with an Achilles tendon tear and missed the season. Lawson's return will immeasurably help a core that features JFM and Quinnen Williams.
"I'm a product of my environment, I say it all the time," Franklin-Myers said. "Bryce Huff does a great job, Shaq Lawson, Tanzel Smart, I could name everyone on the defense. The experience part of it is huge for these young guys, getting reps while they're young, I am all for it. There's a learning curve in every aspect of life so this is just another learning curve for these guys to understand the speed in which we play and the violence in which we play in the NFL."
Despite the Jets finishing 4-13, Franklin-Myers, a fourth-round pick of the Rams in 2018 who ended his rookie season in Super Bowl LIII and sacked Tom Brady, believes the Jets are going places under Saleh.
"It's a learning experience for him too just being a first-year head coach, so it only gets better from here," he said. "He's done a great job. The energy [Coach Saleh] brings day in and day out, the vibe is different around here. Everybody can see it, everybody feels it. Just how we talk in the locker room is different. That's a testament to him and the guys that he brought in do a great job coaching us, leading us."
At times, the Jets defense was overmatched last season, but it showed its resolve up until the final whistle at Buffalo. Against a Bills team that marched up and down the field against the Patriots in the wild-card round, the Jets forced Buffalo punts on seven of eight possessions to keep its offense within striking distance most of the game. The Jets finished 29th against the run (138.3 Yds/G) and T25 in sacks (33), and those two stats are related because the Jets want to get after opposing quarterbacks. Franklin-Myers, 25, has the ability create more chaos as the young Jets develop together.
"Next year we will all understand the system a lot better, we will all understand how each other plays, so I'm just looking forward to the future of this D-line," he said. "I'm looking forward to the future of this team. A bunch of young guys played, a bunch of young guys got meaningful snaps, and it's only going to serve us well in the long run."
See the top black & white photos from the Jets' 2021 season.