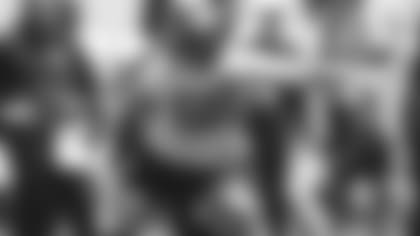 Throughout the spring, Jets rookie C Joe Tippmann got his first taste of the NFL. In addition to learning the new language of Nathaniel Hackett's offense, Tippmann had early engagements with one of the league's deepest defensive lines.
"There is definitely an adjustment period," he said. "Overall breadth of the offense, more details that's an aspect, and then speed of the game. "The d-linemen out here are insanely good, fast, twitchy guys so that's something you have to account for. You kind of have to find these little tricks in areas to help you kind of fix that."
Tippmann, a Wisconsin product selected in the second round (No. 43 overall) of April's NFL Draft, was an honorable mention All-Big Ten performer last season while allowing a single sack and 5 pressures over 338 pass-blocking snaps. According to PFF, Tippmann posted the Badgers' top run-blocking grade at 78. The Jets' recent OTAs served as an orientation of sorts for Tippmann as the physicality will pick up during training camp.
"We're not going to bang obviously without having pads on, but it's a great set-up in my opinion for o-line and d-line to learn from the mental part of it: to go in slow motion and just work on your targeting, work on your technique and work on all that stuff," head coach Robert Saleh said. "So, while we may not be banging, so you may not be getting the physical part of it, he's definitely still going to get the mental part of it."
Tippmann, who sported a mullet the night he was drafted, was a three-time Academic All-Big Ten selection. After playing 11 snaps at guard for the Badgers in 2020, Tippmann stepped into a full-time role at center as a sophomore and did not give up a sack while appearing in 687 snaps. Entering the 2022 season, Tippmann earned a spot on Bruce Feldman's annual Freaks Listafter a 635-pound back squat, 455-pound bench, 4.31 pro agility time and 1. 56 10-yard split.
"Center is kind of a unique position," said O-line coach Keith Carter. "They have to have great personality because they're kind of the glue of the offensive line, so they bring everybody together. So first and foremost, Joe is extremely personable and he's a guy that can rally the troops and bring everybody with him. He's very athletic, he's smart. So, I'm really excited for him and like all rookies — he's got a long way to go. But it's going to be really cool to see what happens when we put pads on and compete."
Tippmann will compete for the center spot with Connor McGovern and free-agent addition Wes Schweitzer. McGovern, the only Jet to play all 1,114 snaps last season and a fixture in the middle from 2020-22, and LG Laken Tomlinson stayed in Tippmann's ear during voluntary workouts.
"They really help to slow everything down and kind of tell me what I'm doing wrong and how I can fix it and how they kind of made the adjustment themselves," Tippmann said. "It's been really helpful."
At 6-6, Tippmann is a giant on the inside. But he was the first center selected in the draft because the unique skyscraper can bend and he's excellent on the move.
"I think I was with Max Unger in Seattle for two years, and Max (6-5, 305) was kind of a taller center," Carter said. "I think the truth is, at 6-6, it's kind of tall for center. But at the end of the day, you kind of know what your issues are and you've got to fight like crazy to get your pad level down and all those things. I think what makes him so special is he bends so well, and he moves so well. I wouldn't say it's as big of a hindrance as maybe it could be."
While McGovern and Tomlinson will continue to aid Tippmann, the Wisconsin product will compete to block for the Jets' new quarterback who was making history in Green Bay for most of the past two decades in Aaron Rodgers.
"It's been awesome, 18-year veteran," he said. "You can kind of feel it when he's in there. The calmness, the coolness that he has. It's kind of an effect that you can see spread throughout the whole offense."
See the top photos of Alijah Vera-Tucker, Laken Tomlinson, Mekhi Becton and the 2023 Jets offensive line.