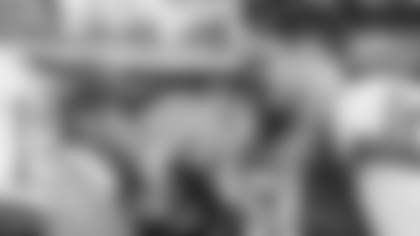 Former Jets quarterback Joe Namath knows what it take to make it in New York let alone the NFL and he likes what he sees in rookie signal caller Sam Darnold.
Through three preseason games, two of which he started, Darnold has completed 29 of his 45 passes (64%) for 244 yards, two touchdowns and one interception. The USC product has looked comfortable running coordinator Jeremy Bates' offense, carrying poise both in a clean pocket and under pressure. He's also shown good accuracy, mobility and an ability to read defenses.
"I look at him as from a quarterback's eyes and I see the way he goes through his progressions," Namath told Jets 360 Productions. "He knows where to go. I see him buy time with his feet. Between the ears, you've got to know somebody. You have to live with him so to speak as a football player, as a coach, as a player. Sam has a special gift going on inside his head. He can analyze things, learn things quickly and it's exciting to see the potential he has."
Namath believes the Green & White have the best situation at quarterback in "quite some time" with Josh McCown, Teddy Bridgewater and Darnold. So what advice would Broadway Joe give to the rookie?
"I don't think it would be anything that he hasn't heard already," Namath said. "I wouldn't do that. I don't know that I'd have words of that nature. The guidance that he's received even before he got here to the Jets is pretty apparent.
"He conducts himself beautifully. I've watched him on camera, I've watched him on the field and I've listened to Coach Bowles and Bates talk about him. He knows what he's doing. He's had some good input even before he got here to the big city. We're all very excited about his future."
Namath joined the broadcast booth Friday night in the second quarter of the MetLife Bowl and told Ian Eagle and Anthony Becht Darnold's first half performance was "better than any rookie that I can remember."
Prior to kickoff, Namath interacted with all the quarterbacks on the sideline.
"He's just a great guy," Darnold said. "He's very charismatic and obviously there's a lot of personality there. It was awesome to be able to talk to him for a little bit. I was hoping maybe I'd get some more time with him. I only got a couple minutes, but it was cool just to meet Broadway Joe and know the history that he has with this franchise. It was awesome to get to meet him."