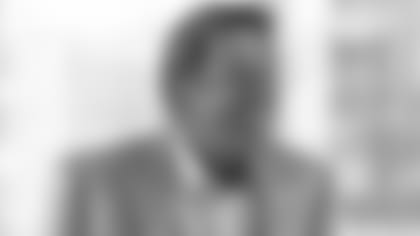 While new head coach Adam Gase is responsible for the Jets' future, he received an emphatic stamp of approval from the Green & White's past: Joe Namath.
"He's going to build a winner," Namath said. "I believe that and we're going to give him a chance to do it."
Namath, who resides in South Florida, said he's watched Gase since his first game with the Dolphins in 2016.
"He's strong, he's good. He's a disciplinarian, he's an innovator and he can recognize talent," Namath said at an event last week in Manhattan. "He dealt with some bad luck down there with some injuries and the quarterback getting hurt."
In Gase's three-year span in South Florida, quarterback Ryan Tannehill missed 24 games, including the entire 2017 season. In 2016, Gase's first year, Tannehill set a career-high 93.5 passer rating and led the Dolphins to a 10-6 Wild Card berth just one year after finishing at the bottom of the AFC East.
Despite Gase's 23-25 record in his three years with Miami, Tannehill posted a 13-11 record as a starter and the Dolphins finished 10-8 in the AFC East and 20-6 in one-score contests.
"The quarterbacks are important because they handle the darn ball every play," Namath said. "There's something to losing your first-team quarterback and having to play the guy that backs him up because the guy that backs him up normally is just not quite as efficient as the first-string guy."
Tannehill is one example of quarterbacks the 40-year-old head coach helped reach career marks. In Gase's first season as Broncos quarterbacks coach in 2011, he helped Tim Tebow set career-highs in yards (1,729) and touchdowns (12). Two seasons later, Peyton Manning set NFL single-season records at 36 years old with 5,477 passing yards and 55 touchdowns with Gase as his offensive coordinator. In Gase's lone season with the Bears (2015), Jay Cutler's 92.3 passer rating was the best of his 12-year career.
Next up for Gase will be working with 21-year-old signal caller Sam Darnold, who threw for 2,865 yards, 17 touchdowns and 15 interceptions in 13 games his rookie season while completing 55.7% of his passes. Darnold, the No. 3 overall pick in the 2018 draft, came on strong in Weeks 14-17 after returning from a foot injury as he threw for 931 yards, six touchdowns and one interception while completing 64% of his passes. In that span, the 6'3", 225-pounder had a passer rating of 99.1.  
"I am a fan of Adam Gase," Namath said. "I know him, I've had the pleasure of meeting him, watching him in press conferences and all. I really believe that he can take the team and help us grow."