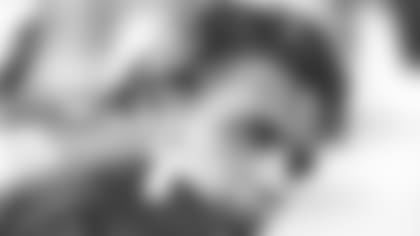 This is one in a series of articles that will also appear in the New York Jets 2023 Yearbook, which will be published later this summer.
Good things come to those who wait.
Former Jets defensive lineman Joe Klecko waited 35 years after he retired in 1988 to hear five knocks and 11 words.
The message delivered by Hall of Fame Jets quarterback Joe Namath: ""Welcome to the Pro Football Hall of Fame, Class of 2023."
"Honestly, it was exhilarating," Klecko recalled. "The best part of it was Joe, it really was. I give Joe every accolade. He's one of the greatest people for the NFL, he's just an icon. For him to come to my house — what a great feeling. It was a cheerful, glorious time when it happened."
Klecko, a two-time first-team All-Pro and four-time Pro Bowler, is one of three players in NFL history to earn a Pro Bowl selection at three positions — DE in 1981, DT in '83-84 and NT in '85.
"I love Joe Klecko," QB Terry Bradshaw said along Super Bowl Radio Row in February. "He was tough. You had to always build your offense around him. First you had to protect yourself against him. Then you had to trap him, you had to try to neutralize him. If you didn't, he was so disruptive."
One-fourth of the New York Sack Exchange, Klecko was named NFL Defensive Player of the Year in 1981 by the Pro Football Writers when his 20.5 sacks led the league. Sacks, however, became an official stat in 1982. Klecko officially has 24 but unofficially, his total spikes to 78 — second-most in franchise history to Mark Gastineau.
"They're throwing the ball a lot more, so that number was even more impressive in 1981 than it would be now," DL Howie Long said.
Klecko has always had praise from his peers, including a quartet of Hall of Famers — Bradshaw, Long and guards Joe DeLamielleure and John Hannah — who were waiting for the Chester, PA native to join them in Canton. Klecko will do that when he's officially enshrined in August.
"You were one of the greatest players to ever wear the Jets uniform," Chairman and CEO Woody Johnson said. "You played every position on the defensive line and took no prisoners. Your impact on the history of the New York Jets was huge and I'm so happy you've gotten this honor that you richly deserve."