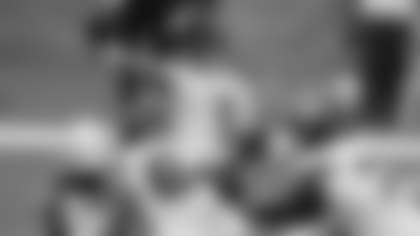 Joe Flacco and the Jets battled until the end against the Los Angeles Chargers at SoFi Stadium in Inglewood, Calif., on Sunday. Ultimately, the Chargers were able to hang on for a 34-28 victory.
For the Jets (0-10) it was another game of missed opportunities, flashes of hope and strong play, but still not quite enough on offense or on defense. The Chargers (3-7) snapped a three-game losing streak.
"It's football, you have ups and downs in this game," the sage veteran, Jets RB Frank Gore (61 rushing yards), said. "You want to start fast, but things just are not going our way early in the game."
Off the Chargers' first possession to open the game, the Jets turned a blocked punt (by Henry Anderson, recovered by Quinnen Williams; the third block of a Chargers punt this season) into 6 early points, without a pass being thrown. Los Angeles quickly drove down the field before Marcus Maye jarred the ball loose from Kellan Allen on the goal, Ashtyn Davis recovered at the Jets' 4-yard line.
But QB Joe Flacco, making his fourth start of the season for injured Sam Darnold (shoulder) got off to a dreadful start when his pass on first-and-10 after the turnover, intended for Jamison Crowder in the right flat, was intercepted by the Chargers' Tevaughn Campbell for an uncontested Pick-Six.
Asked about the pass, Jets Head Coach Adam Gase said: "It wasn't the right decision."
Flacco did not disagree with his coach.
"The interception was really bad," Flacco said. "I threw it way behind [Jamison] Crowder. At best it should have been a completion. At worst I throw one over Crowder's head. Instead they end up with 7. It hurt us." He added: "I was flat-footed. It was just a bad physical throw."
It would be fair to say that the interception set the tone for the Jets offense in the first half. Flacco completed 3-of-8 passes, none to his three starting wide receivers -- Denzel Mims, Breshad Perriman and Crowder. Overall in the first half, the Jets gained only 82 yards and were 1 of 5 on third downs while the Chargers held the ball for nearly 19 minutes and left at halftime with a commanding 24-6 lead.
"We thought we could run early and take some gimme completions," Flacco said. "But we were not able to. We kept shooting ourselves in the foot."
At halftime, Flacco said he didn't realize that his WRs had not seen a ball in the first 30 minutes.
"I only threw the ball like eight times," he said. "We felt like we could take care of their rush, we felt we had to run early and felt like the passes underneath were guaranteed."
The Jets came out to start the second half and quickly covered 74 yards in 7 plays with Flacco connecting with Breshad Perriman on a 49-yard TD pass up the gut of the field. The drive took only 3:33 and drew the Jets within 11 points, 24-13.
The teams traded touchdowns later in the third quarter. But Jets' kicker Sam Ficken, back from a groin injury, missed his second extra point of the game after Frank Gore's short TD run left the Jets in a 12-point hole.
It seemed that every time Flacco and the Jets conjured a modest comeback, the Chargers, led by rookie QB Justin Herbert failed to fold, as Los Angeles has done several times this season.
Flacco finished the game 15 of 30 for 205 yards and 2 TDs. After his three starting wide receivers were held without a catch in the first half, Mims made 3 difficult catches to lead the Jets with 71 yards, Perriman had 2 for 54 yards (including a long of 49 yards for the TD), while TE Chris Herndon saw some daylight with 2 grabs for 32 yards (including a nice catch for a 26-yard gain).
"I think these ones [the last two games] definitely show we can play with these teams," Flacco said. "If our confidence is lacking, it's tough for it not to be, we have to find ways to keep ourselves going. You can see we should have no lack of confidence that we can compete to win these games. You have to have the mindset from the first whistle and believe it can be done. We have things to build off, but at some point have to make sure we make it happen."
Looking ahead to next week's game against the Dolphins, Flacco said: "I'm expecting guys to come in and attack practice. We have a good opportunity against a team in our division. We know what they're going to do since we played them once already. We found some things the last couple of weeks we can build on and use against them. The guys will come in excited to get a victory."