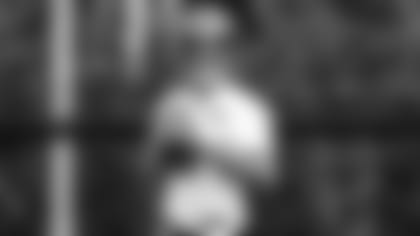 There is a strange kind of coincidence to the first time Joe Flacco is expected to suit up for the Jets, on Thursday night.
Last Sunday, the Jets (0-3) lost at Indianapolis, the team that Flacco last played against, in Week 8 of the 2019 season, when he sustained a season-ending neck injury. The opposition in Week 4 is the Denver Broncos, the team for which Flacco last played for (against the Colts!) before being released this past April. He had a neck operation and has been brought along slowly and cautiously by the Jets.
The Broncos (0-3), of course, will be the Jets' opponent at MetLife Stadium for an installment of "Thursday Night Football." Flacco was not listed on the team's injury report on Monday. He is likely to serve as QB Sam Darnold's backup, but it will be up to the Jets coaches. Flacco, 35, put in a full week of practice before the game against the Colts, but ultimately was scratched, with Mike White serving as Darnold's No. 2.
"The toughest part is just feeling pretty good, but not being able to go out and play, practice, it's tough," Flacco said on Tuesday. "The offseason is one thing, but then being back at training camp, seeing them running team drills, that's when it started to become tough, being so close to action but not able to do it can be frustrating."
In so many ways, Flacco has been there, done that. He brings a professional's perspective to his new role as a backup and he has been watching Darnold with the keen eye, both critic and mentor.
"He's really talented," Flacco (6-6, 245) said of the Jets' third-year leader on offense. "He can make all the throws. He's got good feet, and a good head on his shoulders. It's all about doing it consistently. In today's world, and always in the NFL, we often forget that football is the biggest team sport in the world. It takes 22 guys and a couple more. It takes all of them. We've got to do better as a team."
Flacco, who is from Audubon, NJ, was the league's Rookie of the Year (out of Delaware) with Baltimore in 2008 and led the Ravens to victory in Super Bowl XLVII (34-21 over San Francisco). He struck for 287 yards and 3 TDs and was named the game's Most Valuable Player. In the 2012 postseason, he had 11 TD passes to share a league record with Joe Montana and Kurt Warner.
In his 13th NFL season, Flacco (who will wear jersey No. 5) has amassed 40,067 regular-season passing yards with 218 TDs and 141 INTs. Traded to Denver after the 2018 season, Flacco passed for 1,822 yards and 6 TDs in his eight games with the Broncos. He was released after he failed a physical, signing with the Jets as a free agent.
He said he is itching to get back into action. "To be honest, I've been jealous," he said. "Most of the guys are going out and practicing. It's tough when you're so close, but can't get out there. I'm just itching to get out there and get me some sort of football."
As a veteran quarterback with a proven track record in the league, Flacco is well-acquainted with the ups and downs that go with being the quarterback -- for any team.
"You can only do so much," he said. "The biggest thing is taking it one play at a time, focus on the little things. You can't pay attention to the big picture of it all. There are things we can do in our whole life to play successful football. It's been tough, but he's [Darnold] doing an awesome job keeping his head and transferring that. I like where he's at right now.
"Listen, when you get down in a football game, if you're out on the schoolyard you go out there and flick it around and whatever happens happens. In this league, things tend to be a little different. You have to take it play by play and not look at the big picture. Go slow with details. That's hard."
Though Flacco admitted to being itchy to at least dress for Thursday's game, he's experienced enough to realize that what he wants and what's probable may not jibe.
"Yeah, I feel good," he said. "It's one of those things where I've taken time. I don't want to rush something in the last hour. I feel really good, but want to make sure I've got my feet underneath me. As much as I want to be out there, it's not my decision to make on my own. In terms of getting out there, I'm doing what I can."