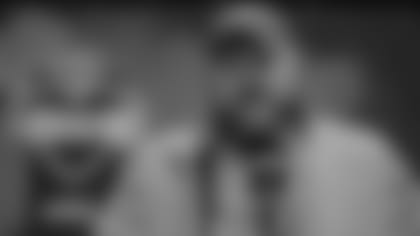 The NFL has descended on Indianapolis, with the most prominent order of business being the start of the league's Combine workouts.
But there are many other matters that teams can take care of in and around Lucas Oil Stadium before and after the drills begin Thursday. As Jets general manager Joe Douglas said today, "This is a good week for getting information."
For the Green & White, some important info streams will be exchanged between Douglas and the representatives for Jets safety Jamal Adams.
Douglas, still not a full year into his tenure running the Jets' football operations after being hired by owner Christopher Johnson last June, left no doubt how he feels about Adams long-term.
"Jamal is an unbelievable player. We're excited about Jamal. The plan is for Jamal to be a Jet for life," Douglas said of his now-fourth-year playmaker and two-time Pro Bowler in the deep middle of his defense. "We've had some preliminary talks with his agent. I'm not going to get into the specifics of that. But the plan is for Jamal to be here a long time."
Another player reporters asked about in regard to his at least short-term future is wideout Robby Anderson, who can become an unrestricted free agent in mid-March. Douglas had a similar good take on Anderson.
"We're going to have some talks with a lot of players' agents, and Robby's agent is one of them, so we're going to see how those talks go," Douglas said. "I couldn't be more proud of the way Robby handled himself last season. With all the adversity that we had at the beginning of the season, going 1-7, Sam [Darnold] being sick, and then him just sticking to it, never an ounce of wavering, he finished the season strong. Robby's a great player."
One more Jets veteran that the media inquired about was a player with an outstanding résumé that some have rumored could be in play this offseason. But Douglas and head coach Adam Gase both had high praise for RB Le'Veon Bell after his first season as a Jet last year.
"I wouldn't say his play declined," Douglas said about Bell's 2019 stat line, which suffered in comparison to his best Steelers seasons. "His numbers probably aren't where he would want them to be. But I think we need to do a better job opening holes for him. We need to put him in good position to be as productive as he was in Pittsburgh.
"There hasn't been talk as far as him going anywhere. We're excited about Le'Veon. He's been a great teammate. I can't tell you how great he's been. ... I know he's been working hard down in Miami and I know he's excited to get back and we're excited to have him."