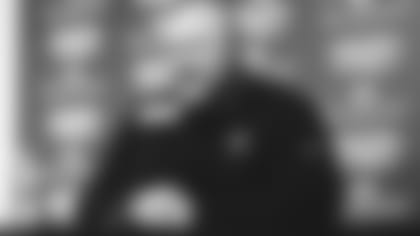 At Tuesday's pre-draft newser, Jets general manager Joe Douglas offered the proviso that "we're still working through some details" on a trade that will send Green Bay QB Aaron Rodgers to the Green & White. But Douglas was happy to talk about the Jets' and Packers' "agreement in principle" to complete the still slightly surreal deal — what the GM termed "a historic trade for this franchise" — of Rodgers to the Green & White.
"You never want to get too far ahead of yourself," Douglas said about when he thought Rodgers-to-the-Jets could and would get done. "Really, you felt honored back a few weeks ago when Aaron said he wanted to be a New York Jet. You felt honored, you felt good. That's what Robert [Saleh] has been able to do here so that a player like Aaron Rodgers wants to be here."
After on-again-off-again trade talks with the Packers, the two sides got back together early this week and the pieces began falling into place — the switching of first-round picks, of fifth- and sixth-rounders, and of the Jets yielding two second-rounders, with next year's two becoming a one based on Rodgers' playtime. And the momentum toward an agreement grew.
"Obviously, we're comfortable with how this deal shaped," Douglas said. "I don't think anyone ever walks away from a negotiation where you feel like you won everything in terms of what's gone back and forth. But ultimately, our goal from the beginning was to add Aaron to the team, so we were able to get that. We agreed to terms yesterday and we're just excited to bring him here."
Jets and NFL fans and analysts know in their heart of hearts why they think the Rodgers deal is or isn't a great thing. But for the first time in a while, the Jets brain trust, represented today by Douglas and assistant GM Rex Hogan were able to expand with reporters on what makes the "aging but ageless" 39-year-old superstar so good in their eyes.
"He's not very far removed from back-to-back MVPs," Douglas said of Rodgers' 2020 and '21 regular-season awards. "You still have someone that maybe didn't play at 100 percent [healthwise] throughout the year but still performed at a high level. ... His relationship with Nathaniel [Hackett, Jets coordinator and Rodgers' former OC in Green Bay] and some of the other players that are on the team, we feel obviously that it's an adjustment when you're somewhere for 18 years. But we feel with the people we have in place, he can get comfortable quickly."
"The guy has great presence and arm talent. His decision-making, timing and accuracy has proven itself over the years," said Hogan, who as a Chicago scout for a dozen seasons had a front-row seat for Rodgers' surgical work as a Packer against the Bears. "You're looking at a guy who's been able to perform at a high level and raise expectations for them the way [Brett] Favre did. And he's going to be able to raise ours, too."
That's the point of everything the Jets have been doing recently. For two years, Saleh and his staff strained to change the culture. Last year, Douglas and his personnel team executed a widely praised draft. The players were "ready to answer the call."
Yet even with another strong draft in a few days, Joe D knows the work is far from done. And he also knows he's got Transformer-type talent at quarterback to help lift the Jets even higher in the coming season.
"Anytime you add a player of Aaron's caliber, it's going to raise the level of everyone. There are going to be standards that need to be met," Douglas said. "I feel like from the beginning, when I started hitting the internet and the stratosphere of this possibly happening, I think everybody's antennas went up. I think everybody's going to answer the bell when it comes to meeting that standard. It's going to be great having these first-, second- and third-year players around Aaron and around the other veteran players we have on our roster."
And Douglas had no doubt what he wanted to do when Rodgers arrives for his introductory news conference.
"It's going to be good, whenever he gets into town" the GM said, " to get him in here and give him a big hug."