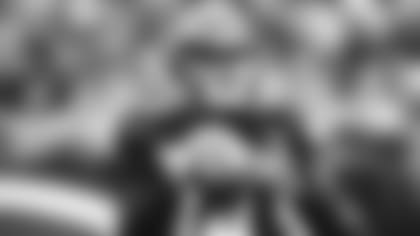 After a turbulent start to his second professional season, Sam Darnold got his feet set underneath him and led the Jets to a 6-2 mark in the latter half. Sirius XM's Jim Miller believes Darnold could remain on the upswing in Year 3.
"I think he's got a ton of talent," Miller said of the 22-year-old QB. "Last year was kind of disjointed for Sam Darnold. He had mononucleosis and that forced him out of the lineup, and then he was kind of rushed back in there. It took him some time to get his footing, but I thought towards the end of the year he really started to play some good football."
Jets GM Joe Douglas has emphasized Darnold's protectors this spring. In free agency, the first-year GM added four new talents to the trenches in T George Fant, interior offensive linemen Connor McGovern, Greg Van Roten and Josh Andrews, and he also re-signed veteran G Alex Lewis.
"Connor McGovern comes with a lot of starts at the center position, and he's a tough guy," Miller said. "Alex Lewis has played, and George Fant has more than likely been in a backup mode, but he does have the experience to where he can step on the field and he's not some newbie. He's going to be able to function right away unless they find a tackle that can step on the field."
Although Douglas invested in the offensive line through free agency, there are still opportunities for the Green & White to pick up more talent through the Draft. With four picks in the top 79 — including two in the third round — the Jets could target a tackle early draft weekend.
"I think at spot 11, a tackle is in the wheelhouse for the Jets," Miller said. "They can get probably a pick of one of the best ones whether it's Jedrick Wills, Mekhi Becton. I'm a big believer in Andrew Thomas and Tristan Wirfs out of Iowa. The Jets will have their pick to address the left tackle spot."
Whether they draft a tackle early or not, the Jets hope Darnold can continue headed in the direction he left off late last season. In 2019, Darnold threw for 3,024 yards with 19 TDs and 13 INTs and posted a 84.3 QB rating. Of those 19 TDs, 13 of them came in the second half of the season. With his second year in the same offensive system under head coach Adam Gase on the horizon, Miller believes Darnold is in good hands.
"You need to get his touchdowns to interception ratio at 2:1, that's what you're looking for from his side of things," Miller said. "I think he's got to be able to receive coaching. I'm a big fan of Adam Gase, I think he's very good with quarterbacks. I noticed it in Chicago when I covered the Bears that he did wonders with Jay Cutler. Cutler's most efficient year was in Chicago when Adam Gase was calling the plays. Then Gase goes down to Miami, and I think Ryan Tannehill was more efficient under the tutelage of Gase. I think if Sam Darnold is open and receptive to the coaching that Adam Gase is going to give him, I think he will improve because he's a self-starter and he's a very motivated guy. He certainly shows a level of toughness that he loves football."