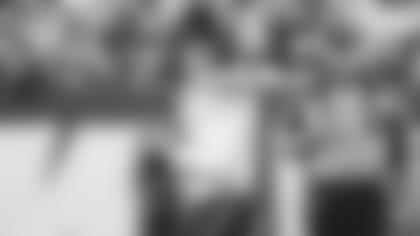 Jets QB Zach Wilson is no stranger to setbacks.
After a tough Week 9 loss to the Chargers, this week Wilson has been drawing from his past experiences facing adversity to help the offense right the ship ahead of the Jets' Week 10 matchup with the Raiders.
"The adversity I have faced definitely helps me. It is a great point," Wilson said. "It has been tough, and it has been challenging, but we just have to keep going. I am very optimistic about what we have as an offense. Every week we are right there, and we are close. Eventually we have got to turn the page as I have learned. I still feel that way. I am excited for this next week and this next challenge."
In Wilson's first two seasons in the league, he battled through a series of trials and tribulations.
As a rookie in 2021, Wilson missed four weeks in the middle of the season (Weeks 7-10) with a knee injury before throwing for 5 touchdowns and rushing for more 4 scores over the final seven weeks.
In his second season, Wilson sustained a non-contact knee injury during the preseason and missed the first three games before coming back and leading the team on a four-game win streak.
Wilson struggled down the stretch in 2022 but took strides in the offseason and was expected to learn behind QB Aaron Rodgers. But Rodgers went down with an Achilles tear in Week 1 and Wilson helped the Jets to a 4-3 start.
After the offense totaled just 6 points in Monday's loss to the Chargers, Wilson is confident the unit will "turn the page."
"Just too many mistakes," Wilson said. "I think I started the game throwing the ball over C.J. [Uzomah's] head, and that can't happen. I have to find a way to be better at the beginning of the game, and as an offense I think we're taking turns. And whatever it is, we need to be better in those instances, in how can we stay ahead of the sticks. I took two sacks in the red zone; I have to find a way to get the ball out of my hands. We have to find a way to be better there."
The Jets need to play a more disciplined game against the Raiders. On Monday night, the offense lost three fumbles (Wilson had 2) and committed 7 penalties (6 accepted) for 50 yards.
Wilson, however, registered his fourth game of season in which he completed 65% of his passes and threw for 263 yards and 0 interceptions. The Jets outgained the Chargers 270 to 191 but failed to score touchdowns on either of their red zone trips and were not effective on third down.
"We've talked about the self-inflicted wounds," Wilson said. "And kind of just feels like every time something good happens, we have some sort of penalty or negative play. And that starts with me and communication and making sure we're all on the same page."
For Wilson and company to get back on track, it will have to start against one of the league's elite pass rushers in Maxx Crosby and a revamped secondary that ranks No. 8 in total passing yards allowed. Crosby is tied for second in the NFL in sacks (9.5) and pressures (26) according to Pro Football Reference. Wilson was sacked 8 times against the Bolts.
"That dude is a great player," Wilson said about Crosby. "An unbelievable player, all the way across the board.
"I know the guys up front are fighting and we're doing everything we can to help those guys as much as possible, but they have a big one this week playing the for them as well for the Raiders."