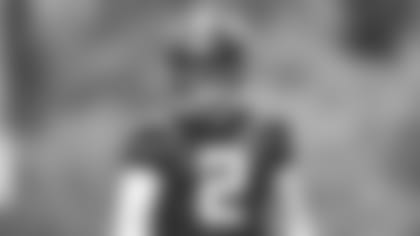 What has initially been a humbling experience for Zach Wilson has the potential to have a positive long-term impact on the Jets third-year quarterback.
"It's interesting, right?" Wilson said last week at the conclusion of the Jets' OTA sessions. "Of course I wish things had gone differently the past two years and I would've played amazing. But I truly believe things happen for a reason."
He added, during his first public comments since the end of the 2022 season and after the Jets obtained future Hall of Fame QB Aaron Rodgers: "I can't be bitter at the situation. I didn't perform well."
The No. 2 overall draft pick in the 2021 draft is now penciled in as the No. 2 signal caller, behind Rodgers and ahead of recently acquired Tim Boyle and Chris Streveler. Over two seasons, in both of which Wilson dealt with injuries and a fluid offensive line, he started 22 games, had 15 TD passes against 18 INTs and a 55.2 completion percentage. Head coach Robert Saleh benched Wilson twice last season and Saleh was joined by GM Joe Douglas and Chairman Woody Johnson at the conclusion of the campaign when they said the team would seek a veteran QB. Saleh's suggested "mental reset" is now in full swing.
"I give him a ton of credit because it's hard to do what he's been asked to do," Saleh said. "To be the second-overall pick, to have two years of playing a lot of football, then being asked to take a back seat to watch and learn from another man. So, from a personal standpoint, it's very humbling to be in his shoes right now, but at the same time, the way he's attacked it, his demeanor, his personality, the attitude at which he's done it, he's been very positive through this whole thing."
Wilson and Rodgers struck up a relationship a couple of seasons ago when the Jets and the Packers held joint practices ahead of a preseason game at Lambeau Field. They also spent time together in California this past January as Rodgers was mulling his options and considering if he wanted to play on after 18 seasons in Green Bay.
"They have a really nice relationship and because of it, guards are down and there's really good communication back and forth," Saleh said of the two QBs. "I think there's a level of trust in the quarterback room right now between the coaches and the players amongst one another where communication isn't met with cynicism.
"It's met with acceptance and because of it, I think it's going to help him get better."
As the backup to Rodgers, Wilson is expected to see ample playing time during the Jets' four-game preseason schedule, which begins Aug. 3 in the Hall of Fame game in Canton, OH. And showing off his competitive nature in a delicate situation, Wilson has said he planned to make life "hell" for his new teammate and long-time idol.
"How old is he, 40?" Wilson, 23, said, smiling. "He's double my age. I'm like, 'You're like my big brother I never had.' Sometimes your little brother has to make your life hell."
He added: "The QB room being with Aaron, I think it's feeling like every single day there's so much to learn. You know, it's like every day I'm just like, 'Wow, like I just learned 10 different things about playing the quarterback position.' "
Rodgers, 39, finds himself in the role of mentor, a role he has embraced.
"He hasn't made my life hell every day," Rodgers said. "He's been a joy to work with and I give him so much credit because it's a tough situation what he went through."
He added: "I have a lot of love for him and even more respect for the way that he's handled things and made me feel welcomed and important, and also just been in my hip pocket learning — a ton of questions in the locker room, in the meeting room, after hours — but I love that because I feel like that's a big part of my role here is to not just play at a super-high level for this team and help us win, but to make sure he's ready when his time comes. I really enjoy that opportunity."
Wilson acknowledged that the past two seasons and the demotion to No. 2 QB has been a humbling, yet educational experience as the 2023 season approaches.
"This game will do that to you," Wilson said. "As I said, I think everything happens for a reason. Am I going to have this opportunity to learn from the greatest quarterback of all time and this staff if things didn't happen the way they did? So, I'm very optimistic about it.
"Of course I would like to be 'The Guy.' At first you're not always happy about that, but I'm extremely psyched that out of any quarterback we could have brought in, it was him. I'm having a ton of fun, like more fun than I've had.
"I'm very appreciative of him and how much he is willing to help me because he doesn't need to be that vocal. He is an amazing friend and, obviously, such an amazing quarterback. I am learning a lot of football."
See the best photos from all ten OTAs of the 2023 season.