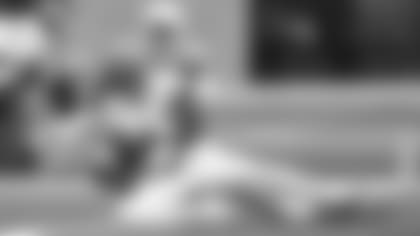 For the first half of Sundays' 34-28 loss in Los Angeles, it looked as if the Chargers defense had found the knockout drops to keep the Jets' three wide receivers out of commission for 60 minutes.
As it turned out, Joe Flacco and especially wideouts Breshad Perriman and rookie Denzel Mims — not to mention TE Chris Herndon! — were only asleep for the first 30 minutes. The final 30, they almost turned their 10th loss into a rousing finish.
"We thought we could run the ball early and take some gimme completions to move the chains," Flacco explained. "We just weren't able to do that. It never got to the point of where we were in the second half, when we were able to stretch the field a bit."
"That obviously wasn't planned," Gase said of the receiving goose egg and trying to throw the ball down the field against the Chargers. "We were trying to do that in the first half. We called a couple of plays where the ball just didn't go down the field. We talked about it at halftime and we said, 'How can we get these guys the ball and have 'em make some plays?' "
That's kind of how Flacco and Head Coach Adam Gase described it, although there were some specific reasons they said that Flacco had a first-half passing line of 3-for-8 for 30 yards and a pick-six interception and "The Three Dudes," including WR Jamison Crowder, had two passes targeted for them for no receptions.
Voilà. Flacco's second-half passing line blew up, not to Pro Bowl size but not bad. He completed 15 of 30 for 205 yards and two touchdowns, a 49-yarder to Perriman after last week's 50- and 15-yard scoring strikes and a 6-yarder to a leaping Herndon who put a first-half drop in the rearview mirror with the TD grab plus a 26-yarder that were reminiscent of the type of receiver he suggested he was as a rookie in 2018.
"There were more opportunities out there in the second half, I feel like," said Perriman, adding of his growing chemistry with Flacco, "It's been good for the most part. Of course it could always be better. But it's definitely going good."
One measure of how good it's been going for BP is that he became the first Jets receiver in more than a decade to have 40-yards-plus touchdown receptions in back-to-back games. The last time it was done, Mark Sanchez was throwing 67- and 41-yard strikes to Braylon Edwards at Miami and Buffalo early in 2010.
Mims, although he didn't score, was more of the go-to guy against the 'Bolts. He had seven targets in the second half and three receptions for 71 yards, and that doesn't even include the illegal contact he drew on LA corner Casey Hayward and the 19-yard pass interference on CB Michael Davis.
Add another PI on LB Denzel Perryman (no relation to either Perriman or Mims) running into Perriman across the middle to set up Frank Gore's 1-yard TD run that cut the Jets' deficit to 31-19 late in the third quarter, and it was at least getting interesting for Jets fans in the Green & White's first visit ever to SoFi Stadium and their first trip to LA since 1993.
The win and even the fantastic finish were not to be, but Perriman maintains a positive mental outlook for getting that first W in the books, perhaps at home on Sunday against the Dolphins and the second rookie QB starter to go up against the Jets in an eight-day span in Tua Tagovailoa.
"We've just got to grind, man," Perriman said. "The only way out of this is to keep working and get that first win. Stay positive through it all, despite our record, despite what we're going through. Everything will work itself out in the end."