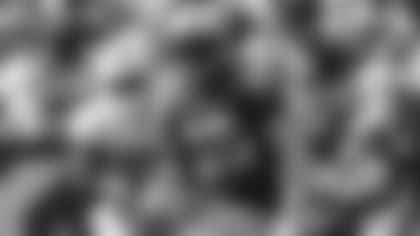 After both a foot and ankle surgery in an eight-month span, Jets wide receiver Terrelle Pryor feels like he's climbing back to his 2016 form when he tallied over 1,000 yards.
"Not playing a game in almost a year and having that injury, I have to get back in it," Pryor said. "I'm getting back into it and I'm starting to play and run violently. That's something I talk about a lot is I want to run violent and I want to look violent on the field. I think I'm getting back to that and being better than I've ever been. I just have to continue to get better and continue to be the best team player I can be."
Through two games, Pryor's seven receptions and 133 yards rank second on the Green & White, and he leads the team with an average of 19 yards per catch. Against the Dolphins on Sunday, the 6'4", 228-pounder put his acceleration on display as he took a pitch-and-catch 44 yards across the field to the Miami 31-yard line right before the end of the first half.
"TP is a great athlete," quarterback Sam Darnold said earlier this week. "We have great athletes all over the field as well offensively. We look to spread the ball and get our playmakers in certain situations where they can thrive. TP has certain characteristics where we try to put him certain situations where he can thrive and play best. We're just looking to put those guys in the best situation that we can."
Pryor finished Sunday's performance with four catches for 84 yards and was targeted eight times, one of which was Darnold's second interception. The rookie signal caller looked for a cutting Pryor across the back of the end zone following Jordan Jenkins' fumble recovery, but Dolphins corner Xavien Howard made a nice play on the ball and snatched the rock. After the game, Pryor said he took responsibility for the pick, but head coach Todd Bowles said it doesn't fall on the receiver's shoulders.
"Everybody's involved — the line, the quarterback, the receiver, the coaches. Everybody's involved," Bowles said. "From a leadership standpoint, since he's gotten healthy and been out on the field more, he (Pryor) has been a joy to coach. He's been great to been around, he understands things well and he's one of those guys that loves to practice every day. He's the type of guy you like to coach."