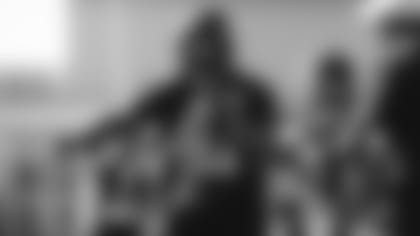 Quincy Enunwa has high expectations for quarterback Sam Darnold in his second season with the Jets. When asked at a press conference last week how he envisions the young signal-caller taking a leap in year two, the veteran wide receiver didn't hold back.
"I'm looking forward to this year. I think that he's going to be a lot better than he was last year," Enunwa said. "He's got a year under his belt, he's got his mistakes under his belt. You look at just his first game, he was able to make a mistake on the first play and then go out there and play a great game."
Enunwa was referring to Darnold's professional debut against the Detroit Lions when he threw a pick-six for his first NFL throw. But the bigger, more important story is how the then-rookie gunslinger bounced back in a big way, completing 16 of 21 passes for 198 yards, two touchdowns and one interception. The Jets went on to defeat the Lions 48-17.
"I think he's one of those guys that's a quick learner and he's going to show this year that he's going to pick up the new offense and still be able to perform," said Enunwa.
Speaking of the offense, Enunwa knows it's going to play a large role in helping Darnold take those next steps. With head coach Adam Gase taking the wheel and implementing different offensive strategies, the 6'2", 225-pound WR is looking forward to the adjustments that come along with the new playbook.
"This one there's a few things that we kind of have to make sure that we're paying attention to because we're also helping the quarterback out," the Nebraska product said. "It's good. It kind of forces us to really know not just what we're doing, but what everybody else is doing, as well as what the defense is doing."
Darnold finished his rookie campaign completing 57% of his passes and throwing for 2,865 yards, 17 touchdowns and 15 interceptions. But Enunwa is confident that this year he, and the rest of the offense, will have the tools they need to elevate their QB to the next level.
"It's just kind of a communication thing," Enunwa started. "Whereas before the quarterback would have to have more on his plate, this time we're able to see what's going on with the defense and if he's not looking we can say something…A lot of offenses do it, but now it's our turn to experience it."