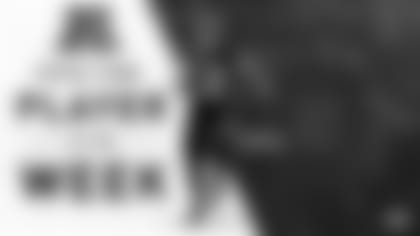 Jets WR-KR Braxton Berrios was named AFC Special Teams Player of the Week.
Berrios, whose 30.7 yards per kickoff return leads the NFL, had a 102-yard return for a touchdown in Week 16 against the Jaguars that gave the Green & White a 13-9 lead, after the extra point, in the second quarter. He had 3 kickoff returns for 138 yards and 1 punt return for 12 yards.
"Honestly, whatever, whenever," Berrios said of how he views his role. "Truly, I want to help this team win and that's all I really care about. If they need me to play DB, I'll go out there and do that. Honestly, it's whatever we need to do that puts us in the best position to win, I'm game for."
Berrios' kickoff return average is the eighth-highest in the league over the last 10 seasons and ranks third among all Jets since 1970. The Jets are the only team in the NFL that ranks in the top five in both kick- and punt-return average and his 13.4 yards per punt return ranks second among players with at least 15 tries.
The Green & White claimed the Miami product his rookie season in September 2019 after the Patriots waived him. He returned punts in 2019 and 2020, but this is the first season he took over kick-return duties for the Jets. He has a career 11.5 punt-return average and 25.9 kick-return average and was named a first alternate to the 2022 Pro Bowl.
"If you look back even in college, I didn't really return kicks that often, I was back there in certain situations," Berrios said. "I love doing it, but never consistently did it throughout an entire season. It was the same thing so far here really in my career until this year. So I think that's reps, learning, experience and, again, my team is doing an incredible job just doing their job and letting me do the rest."
Speaking about what it means to represent the Jets in the Pro Bowl he said: "Obviously, it's one of the greatest honors individually. I think more so it leads the fact that I did it, or whoever gets to the Pro Bowl, did it over the entire season or the majority of the season, and did it in a way that obviously helped their team. I think that's the part I take pride in. If that happens, that's awesome, but I relish in the fact that I was able to bring up my team around me for most of the season."