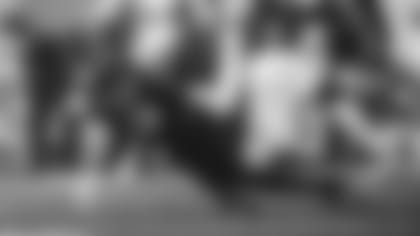 Jeff Smith sent a message last week when he caught 7 passes for 81 yards in his season debut -- make that his real debut -- for the Jets. The 411 is that Smith has the skills, speed and potential to be an important cog in the offense and a valuable option for QB Sam Darnold.
Thing is, at one time in his football life, Smith was not the one catching the passes. He was the one throwing them.
After setting passing records at Clearwater (Fla.) Central Catholic (while also pitching, playing center field and second base for the school's baseball team), Smith eschewed offers to enter the MLB draft and went north to Boston College -- as a mobile quarterback. After his freshman season, in which he passed and ran in nine games, the equation was rewritten. Playing quarterback his freshman season, Smith completed 34 passes for 404 yards and 6 touchdowns, rushing 135 times for 898 yards and 9 TDs. Moving out wide as a sophomore, he finished his receiving career at BC with 72 receptions for 1,078 yards and 9 TDs.
"It was tough to be on the other end," Smith (6-3, 202) told Dan Graca on the Inside the Jets radio show. "At quarterback, you can see the whole field. As a wideout catching the ball you don't see anyone. It was all about learning how to use my speed. It took time and three years at school helped for sure." He added: "I've always been able to throw. That was the role that I took. I've always been the fastest, the most athletic player on the field and you usually want that player to have the ball in his hands."
Smith's quest to coax the ball into his hands in the NFL has been a series of fits and starts. He signed with the Jets as an undrafted free agent and spent most of the 2019 season on the practice squad. When he did get his chance, in Week 15, he caught a single pass before sustaining an injury and landing on the injured reserve.
This year, without an offseason team program because of the coronavirus pandemic, Smith, 24, and the rest of his Jets teammates were left mostly to their own devices.
"I focused more on my nutrition," he said. "In college, you get to work out all year with the team. Now, I had to workout on my own and stay on point. Quarantine wasn't tough. It just made the offseason much longer."
Smith had a strong training camp and was seen to be competing for a starting, if not, growing role among the team's wide receivers. Then the injury bug struck, not only putting Smith on IR with a shoulder injury, but hobbling rookie Denzel Mims, Vyncint Smith and others. Smith was activated for last Thursday night's loss to the visiting Denver Broncos and was on the field for 73 of 77 plays on offense.
"To be honest I wasn't expecting to play so much," he said. "I hadn't played or practiced in four weeks. As the game went on I felt better. Now the focus is to get into football shape. There's an in shape and then there's football shape. I think I'm in shape, but not football shape."
Smith's experience as a pitcher/center fielder in baseball and making plays as a quarterback gives him a unique perspective as he continues to grow into an NFL-caliber wide receiver.
"I pride myself on knowing what to do," he said. "That P-squad year was critical, it was something I needed no matter how much I wanted to play. I needed that year to prepare."