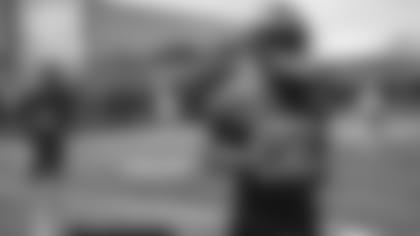 For a player who's going into his fifth season with his second NFL team, it's no surprise that Jets wide receiver Jamison Crowder knows a thing or two about forming a strong bond with his quarterback. What might come as a surprise, though, is how sometimes building that relationship simply comes down to the fundamentals.
"At the end of the day, a lot of times it's just going out there — even though for me it's a new system and for him [Sam Darnold] it's a new system — and playing football," Crowder said. "We play ball, college and pro, whatever it may be we play a lot of ball. So just going out there and playing and trying to get that chemistry and kind of getting a feel for what he likes and telling him what I like, I think that's the thing as far as building chemistry. But still, once you get the play and stuff down and go out there, it's still just playing football at the end of the day."
Between voluntary veteran minicamp, Phase 1 of the offseason workouts, and now the start of OTAs, Crowder has had time to start to build that crucial chemistry between him and Darnold. And so far, the 5'9", 177-pound receiver has some positive impressions of the young QB.
"I think that he's very good. He's still a young quarterback trying to learn in this league, which I'm trying to learn as well," said Crowder. "He has a lot of potential. He can really throw the football with accuracy. I think at this point right now, I'm just trying to get that chemistry and that bond between me and him. I think he's really good."
In four seasons with the Washington Redskins, Crowder totaled 221 receptions for 2,628 receiving yards and 14 touchdowns, making him a central piece in the offense. Although mostly utilized in the slot in the past, Crowder's versatility as a receiver can help open up options for Adam Gase and his new offense.
"I pride myself on just going out there and being a ballplayer. Regardless of what they want me to play, inside or out, it doesn't matter," said Crowder. "I just try to learn as much as I can and go out there and take it to the field and continue to grow as a player in this league, both mentally and physically. I take pride in everything, honestly."