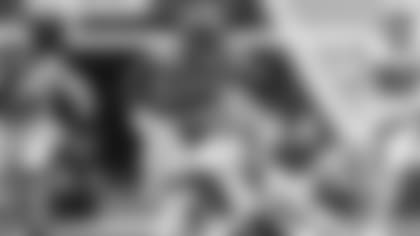 New Slot
The Jets will be without slot WR Jamison Crowder (hamstring) on Sunday against the NFL's No. 1 pass defense from 2019. The 49ers' secondary, however, will be without five-time Pro Bowl CB Richard Sherman, who was placed on injured reserve earlier this week. Crowder led the Jets in receptions (78), yards (833) and touchdowns (6) last season. He had 7 catches, 115 yards and 1 TD in Week 1 at Buffalo last week. Head Coach Adam Gase is optimistic that Crowder won't need to be placed on injured reserve, which would sideline him for at least three weeks.
"Hopefully this will be more of a short-term thing than long term, but everybody's body reacts a little differently," Gase said. "Once we get him back on the field and move him around next week, we'll see where he's at. By next Wednesday, that'll put us at six or seven days, so we'll see where he's at after that."
Braxton Berrios, who doubles as the team's punt returner, will start in Crowder's place Sunday. Berrios had 6 receptions for 115 yards last season, including a 69-yard catch and run against the Raiders in Week 12. Gase said he tries to develop a role for Berrios each game even when Crowder is healthy, but it's difficult because they play the same position.
"I'm glad he's here because I think it's rare to have two slots that can be starters in this league," he said. "Braxton, I have a lot of confidence in him. When we got him last year, I was really excited after just seeing him throughout college. We'll get out there and it seems like he and Sam have good chemistry because they've worked enough together. We always try to make sure Crowder doesn't take every rep in training camp and during the week anyway, so Braxton gets quite a few reps throughout the week. There is some chemistry there."           
Berrios added: "Absolutely there's a comfort level. You prepare for these things and you rotate and let everybody get in especially with a guy like Sam, who is our QB1. We've taken many reps starting from Week 1 last year all the way through now Week 2 this year. We do have a good chemistry and my job is to be where he expects me to be."
Unfamiliar Foe
The Jets are facing an unfamiliar opponent Sunday in the 49ers, but they're no stranger to S Bradley McDougald. McDougald, who joined the Green & White in July via trade from Seattle, played with the Seahawks from 2017-19 and had 37 tackles, 1 INT and 1 FF in 7 games against San Francisco in the NFC West rivalry.
"One of their strongest suits is their familiarity with their offense," he said. "Everybody knows what they're doing. They move fast within their offense like a well-oiled machine. They have various tempos. They go no huddle, they can slow it down, approach the line of scrimmage fast, go on first down. They do a lot of creative things. They have creative playmakers and ways to get them the ball. You have to know your own self, know what you're doing and know where to be at."
Field-Position Battle
The Jets need to improve their field position when they face the 49ers. The Green & White's averaged drive started on its own 21-yard line while the Bills started on their 40. Special teams coordinator Brant Boyer said that rookie P Braden Mann, who averaged 46.3 yards per punt and had a 58-yard boot, did a nice job in his debut and expects him to improve each week, but the unit needs to improve its tackling. Bills returner Andre Roberts averaged 13.6 yards per punt return and had a 31-yard kick return.
"We were in good positions to make those plays," Boyer said. "Dre is a Pro Bowler and that's why. He made people miss. I think we missed 10 or 12 tackles or something like that. He did a great job of breaking a bunch of them and we certainly have to get that cleaned up and a lot of other things cleaned up. We have to eliminate the penalties and all around I thought it was a really sloppy game. I didn't think we played very well at all."