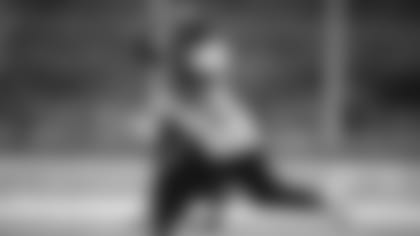 You could make the argument the most improved position on the Jets is wide receiver, which includes offseason additions like Corey Davis, Keelan Cole and Elijah Moore. While they may be the shiny new toys out wide, veteran WR Jamison Crowder feels he is flying under the radar.
"A little bit, but it is what it is," he said after the team's first practice, on Wednesday. "I know I have some more in the tank. I haven't been in this game seven years for nothing. I still got it.
"I like to think that I'm young. … Even though it's Year 7, I still get those butterflies, but once I get out here and catch a few passes and running around, it goes away."
In the same breath, Crowder, who led the Jets in receptions (78, 59) and receiving yards (833, 699) each of the last two seasons, agrees the WRs room has received an offseason facelift.
"I think it's improved a lot," he said. "We have some dogs in the room. We have a lot of guys who can make plays. We have guys who bring a variety of skillsets to the group. I think we can be pretty good if we continue to work and get better."
Crowder (5-9, 177) wasn't present during OTAs as he navigated a contract issue, which was settled in June. But when he spoke to the media during minicamp, he said he's familiar with OC Mike LaFleur's system because it's similar to the one Jay Gruden and Sean McVay ran in Washington during Crowder's rookie season in 2015.
That season, four players had at least 500 yards -- Jordan Reed, Pierre Garcon, Crowder, DeSean Jackson -- and three had more than 600 (everyone minus Jackson). Point being that Crowder, who finished that year with 59 receptions, 604 receiving yards and 2 touchdowns, believes multiple receivers can have success in LaFleur's system.
"I think the versatility is the unique thing about us," he said. "It's just up to the receivers to go out there and make plays no matter where you're at whether it's inside or outside. The ball comes your way, you have to have that mentality you're going to make a play. That's the mentality I've always had and hopefully we can put that together and go out there and make it happen."
Crowder has yet to take reps with the No. 2 overall pick Zach Wilson as Crowder didn't take 7-on-7 or team reps in the spring and Wilson hasn't reported to training camp while he remains unsigned. Crowder said it's a good opportunity for the young QBs on the roster in Mike White and James Morgan, and he felt the team's first practice went well.
"I thought it went really well," he said. "You can definitely feel a different energy. It's a different atmosphere with the coaching staff and the energy there. I thought the meetings went well and I thought we had a pretty good first day."