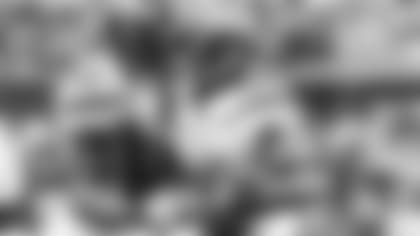 Jamison Crowder wrapped up his 2019 season on a high note.
The fifth-year wide receiver became the Jets' season leader in receiving yards (833) and touchdowns (6) after recording 8 receptions for 66 yards and a TD in Sunday's 13-6 victory over the Bills in Orchard Park, NY.
"The play, it was a great design by coach," said Crowder of his 1-yard TD catch. "The coaching staff and I knew I could just slip right behind the defense on the play action and it happened. To come out here on this type of game and on an ugly day like this, it was great."
Since joining the Jets this past off-season, Crowder has climbed the ranks as a leader on offense. He notched 5 of his 6 TDs in the second half of the season as the Jets built a 6-2 record after a 1-7 start. The 5-9, 177-pound WR finished his first year with the Green & White fewer than 20 yards shy of his career-high 847 yards and 7 TDs in 2016.
"All year he's done a great job of being productive for us," Coach Gase said of Crowder. "When his number is called, he's been so extremely reliable. It seems like every ball that's thrown to him — outside of the Baltimore one — has been caught. But then he redeemed himself the next play. He's been probably one of the most consistent guys we've had throughout the entire year."
The Jets' sputtering start virtually assured a failure to make the playoffs, but the strong finish is something to build on ahead of the 2020 season.
"I think we just kind of came together," Crowder said. "Early in the year, there was a lot going on with injuries and all types of stuff. We didn't have everybody. But these last few games we've had the majority of the guys as weapons, and we've just been going out to play and come out with wins."
He added: "It's very important, it's momentum going into next year, so this was a huge win for us."