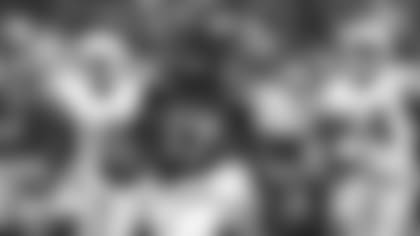 Jets WR Garrett Wilson had 2 receptions for 83 yards and flashed his explosive playmaking ability with a 68-yard touchdown reception as the Jets fell to Dallas, 30-10, at AT&T Stadium on Sunday.
"I feel like I got away a little bit on the route and it was cool to be able to run free and not see anyone," Wilson said. "I haven't had that feeling in a while, so that feeling was cool for sure."
With 7:21 remaining in the second quarter, the second-year wideout created separation from CB Stephon Gilmore, the 2019 Defensive Player of the Year, with a quick release and QB Zach Wilson faked a handoff and fired a pass into a tight window across the middle. G. Wilson ran a crossing pattern, caught the ball and ran 55 yards after the catch to cut the Cowboys' lead to 10-7.
"I thought they did a nice job," head coach Robert Saleh said. "Zach hit that strike route to Garrett over the middle for that big touchdown."
RB Breece Hall added: "That play was just a result of when we keep doing what we are doing good things happen. The play-pass happens, and it springs big pass plays."
The reception was the longest of Garrett's NFL career and topped the 60-yard catch and run he had against Minnesota in Week 13 last season. In addition, it was the first 50+ yard completion by the Jets since Week 15 of 2022 (Z. Wilson to WR Jeff Smith for 50 yards), which was also the team's last 40-plus-yard touchdown (Z. Wilson to C.J. Uzomah).
"Those guys were stacking the box and playing a lot of those five-down fronts," Z. Wilson said. "And it was one that we wanted to get him one-on-one with the corner. It was a good play-pass and the guys held up well. He ran a great route and then obviously did the rest. And I thought that was a good play call by Hackett." He was referring to offensive coordinator Nathaniel Hackett.
G. WIlson added: "The chemistry is constantly building. The chemistry is there for sure. The game flow always plays into that, and we try not to go out of our way to do anything, but we know the chemistry is there and whenever that time comes, we're ready."
Sparked by G. Wilson's touchdown, the Jets got going just before the end of the first half. Over the final 7:21 of the second quarter, the Green & White scored 10 points and had 128 total yards and 5 first downs. The Wilson-to-Wilson duo nearly connected again for a touchdown on the second-to-last play before the half. G. Wilson got open on an out route and before Z. Wilson was able to deliver the ball, DE Demarcus Lawrence tipped the ball as he reeled back to throw.
"That's ball. It happens," G. Wilson said. "They have a hell of a pass rush. They make plays on the ball, and you have to live with it. Every time you are open, you aren't always going to get it. That's the way it goes."
The Wilson-to-Wilson combination did not connect for a touchdown last season, but has already hooked up for two scores this season. Z. Wilson found G. Wilson on a fade route for a highlight-reel touchdown against Buffalo in Week 1.
Overall, the Jets offense had 12 first downs and 215 total yards in the loss. G. Wilson said the receiver group needs to do a better job of getting open and providing the quarterback with more options.
"Internally, we all know we all got to give, and we got to take the right steps to get better," he said. "Zach went out there and gave it his all today and we got to make it easier on him and we got to paint better pictures for him."
Late in the fourth quarter, G. Wilson took a hard hit to the chest on an incomplete pass and jogged off the field holding his abdominals. Saleh said postgame that G. Wilson had the wind knocked out of him and that he would be O.K.
See the best game action photos during the Week 2 matchup against the Cowboys.