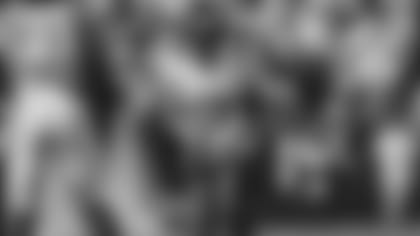 For most of Garrett Wilson's life, the New York Jets have looked up to the New England Patriots in the standings. But the 22-year-old Wilson, a rookie on a Green & White team that is two games up on the Patriots for the first time in nearly 21 years, wants to be part of a new chapter in the longtime rivalry.
"The NFL and the AFC East ran through New England for a good majority of my childhood," Wilson said. "And now being a Jet, it's awesome to get the opportunity to see them on the other side of the field, but more importantly have a chance to start a new story with things running through Florham Park."
Coming off four straight wins, Wilson wants to start fresh in the rivalry with HC Bill Belichick's Patriots that have won 12 in a row against the Jets.
"Obviously, he is a well-respected coach that has done a lot in this league," Wilson said. "I feel like anything that can be said about him has already been said. Obviously, a great coach. But this weekend, we want to go out there and some give him something to worry about and give him some head pains."
Belichick's defense is tied for third in takeaways with 13 (7 interceptions, 6 fumble recoveries). The Patriots boast a talented and deep secondary with two of Pro Football Focus' top graded cornerbacks in single coverage. Jonathan Jones ranks No. 1 (91.2 grade) and Jack Jones No. 4 (90.5).
"They got a lot of speed on their side, a good group," Wilson said. "I am excited to go out there and do what I do and have a chance to put some of the things I do well on display against a good group."
Wilson leads the Jets with 28 catches to go along with his 314 receiving yards. His 2 touchdowns are tied for the team lead with Corey Davis. But the Green & White will be without one of Wilson's best friends and the team's top young playmakers in RB Breece Hall, who leads the team with 681 scrimmage yards and 5 scores (4 rushing, 1 receiving). Hall tore his ACL against Denver last Sunday and was placed on injured reserve earlier this week.
Before his injury, Hall accounted for 44.2 % of the Jets' touches. Wilson said he wants to pick up where Hall left off.
"I always feel like I have a responsibility to produce and even more with Breece out," Wilson said. "Breece was doing a great job of making our offense potent. … But we are going to need to be able to get it done either way going against New England, and I have to do my part."