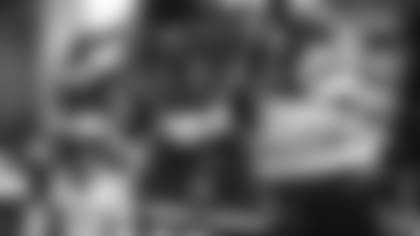 Every rookie has a "welcome to the NFL" moment, but Garrett Wilson didn't find that in his first NFL preseason game.
"It was everything I expected," Wilson said after the game. "We go at it hard every day at practice every single day with high competitions, so when we're out here it feels a little slower than practice honestly. To get out there and play, it was good to get it off my shoulders."
Wilson helped the Jets to a 24-21 preseason win over the Philadelphia Eagles on Friday night. Pro Football Focus gave Wilson the second-highest grade of first-round offensive rookies in Week 1 of the preseason with a 78.7. Although Wilson only saw action in the first half and it was a preseason game, he did not take it any less seriously than a regular-season game.
"You go into a different mode, at least personally I do," Wilsons said on Monday. "It's a violent game we play and you kind of have to be in that mode to get everything out of gamedays. I've been that way since I was a young kid, I don't really like talking to anyone on gameday, I'm locked in, and then once we're out there it's the best day of my life and I never take that for granted."
Even Head Coach Robert Saleh noticed the difference in Wilson's demeanor on gameday.
"I know Garrett's a competitor and he's intense," Saleh told reporters after practice on Sunday. "He went up a whole other level on gameday, which I thought was awesome."
While QB Zach Wilson recovers from a knee injury that happened onduring Friday night's preseason opener, Garrett Wilson will be catching the majority of passes from QB Joe Flacco. While a change at QB may have an impact on some rookies, it won't affect Wilson.
"It's a lot of experience right there with Flacco," Wilson said when asked about the difference between Flacco and Zach Wilson. "Flacco does a good job of making the passes receiver friendly, that's the best way I can describe it. They're pretty easy to catch. He takes something off the ball when you're running a slant route versus on an out route he'll put some zip on it because you have to."
No matter who Garrett Wilson's quarterback is, the young receiver is focused on taking advantage of his opportunities and continuing to enhance increase his confidence.
"I want to keep on stacking days, keep on making sure I'm getting those reps and getting on the right page with the quarterback," Wilson said. "I feel like every single one is magnified being a young dude and every single rep I'm out there for, I want to make a play.
"I've just always tried to do a great job of playing my role. That doesn't change here. Whenever my opportunity does come and whenever the ball is in the air, I want to make that play."
See the Green & White on the practice field in full pads during week four at training camp.